For the first time in 70 years, the full moon will rise on the day of the summer solstice. The rare astronomical event will occur on Monday (20 June 2016) and will be observed all around the world.
Solstices happen twice a year and correspond to the moment when the sun reaches its highest or lowest point from Earth as it orbits the Sun.
In the Northern Hemisphere, the June solstice marks the beginning of summer and is the longest day of the year, because it has the longest period of daylight.
Watch it as it happens
The full moon can generally be seen as a month comes to end, and mathematical models predict that it can only exactly fall on the day of a solstice every 15 years.
In reality, a full solstice moon in June has not been observed for a lot longer – since 1948, in fact.
Slooh's astronomers will broadcast the event live from their community observatory in the Canaries and the result can be watched below on 20 June at 01:00 UK time.
Alternatively, viewers can also go to Slooh.com to watch the broadcast, snap and share photos, chat with other audience members, interact with the hosts and personally control Slooh's telescopes.
During the event, astronomers will discuss the significance of the two events – the solstice and the full moon – happening at the same time. They will explore the importance of the solstice as a seasonal celebration in cultures across the world and throughout history.
Full strawberry moon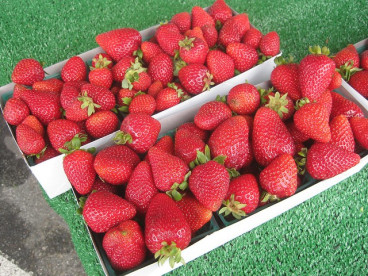 Interesting to note is the fact that the June full moon is also known as the 'strawberry moon.
The name does not have to do with the actual astronomical phenomenon, but it is a tradition dating back to ancient tribes of native Americans, who gave poetic, colourful names to each full moon of the year.
These names reflected the changes happening in their natural environment. Moon cycles were followed closely by these populations to keep track of the passing of time, with every full moon marking a particular moment in time.
The Farmers' Almanac, a North American periodical published since 1818, lists all the names of the different full moons, as they were known by the Algonquin tribe who lived in regions from New England to Lake Superior.
June's strawberry moon got its nickname because the tribes knew it as a signal to gather ripening fruit. It was also known as the 'full rose moon' in Europe or the 'honey moon' because of summer's flowery and colourful environment.