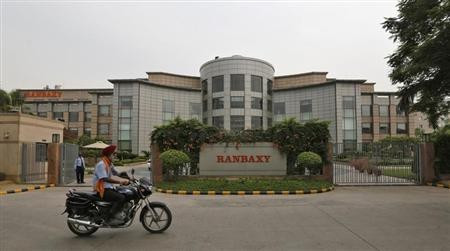 India's Sun Pharmaceutical Industries has agreed to acquire rival Ranbaxy in an all-stock deal, creating the largest pharma company in the country.
The deal worth about $4bn (£2.4bn, €2.9bn) will also make Sun Pharmaceutical the world's fifth-largest generic drugs maker. The combined company will have operations in 65 countries and 47 manufacturing facilities across five continents.
Under the terms of the deal, Ranbaxy shareholders will receive 0.8 share in Sun Pharma for each share.
On a pro forma basis, the combined entity's revenues are estimated at $4.2bn with earnings before interest, taxes, depreciation and amortisation of $1.2bn for the 12-month period ended 31 December 2013.
"Ranbaxy has a significant presence in the Indian pharma market and in the US where it offers a broad portfolio of ANDAs and first-to-file opportunities. In high-growth emerging markets, it provides a strong platform which is highly complementary to Sun Pharma's strengths," Dilip Shanghvi, managing director of Sun Pharma, said in a joint statement.
"We see tremendous growth opportunities and are excited with the prospects to create lasting value for both our shareholders through a successful combination of our franchises."
"We are confident that Sun Pharma is the ideal partner to help us realise our full potential and are excited to participate in future value creation opportunities," said Arun Sahwney, managing director and CEO of Ranbaxy.
The boards of both companies and Ranbaxy's controlling shareholder, Daiichi Sankyo, have approved the transaction. Daiichi Sankyo, which owns 63.5% of Gurgaon-based Ranbaxy, will become the second-largest shareholder of Sun Pharma after the transaction.
The acquisition is expected to be accretive to Sun Pharma's cash earnings per share in the first full year. The company expects revenue and operating synergies of $250m by the third year after the completion of the transaction.
Sun Pharma expects to complete the transaction by the end of 2014, subject to approvals by shareholders in both companies and other regulatory clearances.
Troubles of Ranbaxy
Ranbaxy is currently on the radar of US regulators who have imposed import bans on drugs manufactured at some of its facilities.
Earlier in 2014, the US Food and Drug Administration (FDA) banned Ranbaxy drugs produced at its Toansa facility in Punjab, citing "significant" manufacturing violations.
The company also received a subpoena from the US Attorney for the District of New Jersey, demanding that it produce certain documents related to the issues at the Toansa facility.
Daiichi Sankyo agreed to indemnify Sun Pharma and Ranbaxy for certain costs and expenses that may arise from the subpoena, as part of the acquisition, the statement from the companies said.