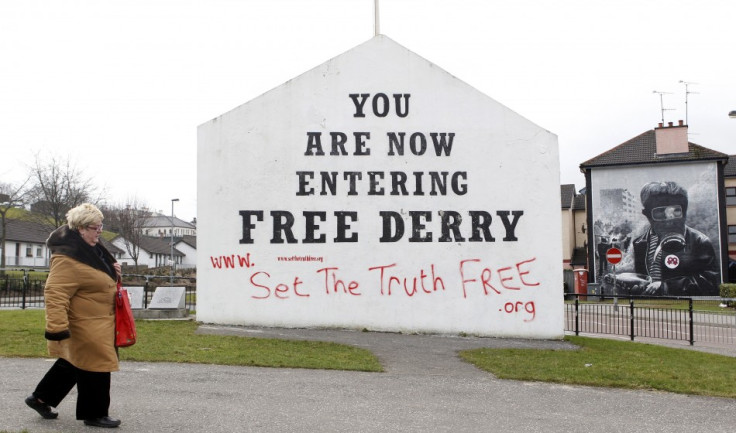 Britain's Ministry of Defence is finally ready to pay compensation to the families of those killed or injured in the Bloody Sunday Massacre in Northern Ireland in 1972.
In January 1972, 14 people died when British paratroopers indiscriminately opened fire on civil rights protestors in Derry. Prime Minster David Cameron has already apologised to victims and has said that the shooting were wrong.
"What happened on Bloody Sunday was both unjustified and unjustifiable. It was wrong," Cameron told the Commons in 2010, the Guardian reported.
The 5,000-page, 10-volume report, which took 12 years to compile at a cost of almost£191m,concludes there was no justification for shooting at any of those killed or wounded on the march.
"None of the firing by the Support Company [Paratroopers] was aimed at people posing a threat or causing death or serious injury. The shootings "were not the result of any plan to shoot selected ringleaders," the report said.
In a statement a MoD spokesperson accepted that members of the armed forces had acted wrongly and that the government was "deeply sorry". The statement confirmed that compensation would be paid "where there was a legal liability to do so," U.TV reports.
The letter, sent from law firm Madden and Finucane, who represent most of the victims' families has asked the British government what steps they are taking to 'fully compensate' the families the BBC reports.
The initial inquiry absolved the soldiers and the government of much of the blame, and in 1974 the MoD made a series of mostly small payments without accepting any responsibility. But last year's Saville inquiry, which was 12 years in the making, came to the unequivocal conclusion that the killings had been justified.
"We found no instances where it appeared to us that soldiers either were or might have been justified in firing," it said.
The Bloody Sunday Inquiry, authorized by Britain's government in 1998, was seen as a key step to heal wounds left from Northern Ireland's four-decade conflict that left 3,700 dead Associated Press reports.