Super-Typhoon Neoguri has the potential to be as destructive as Typhoon Haiyan, which devastated the Philippines at the end of last year.
The typhoon is currently making its way to the chain of Japanese islands of Okinawa, with winds of up to 270km/h (167mph).
Officials warned residents to prepare to evacuate ahead of the storm, which is due to make landfall on Okinawa on Tuesday morning (8 July).
It is expected to reach mainland Japan by Wednesday, bringing with it torrential rain and extremely strong winds.
The US Joint Typhoon Warning Centre said it currently has sustained winds of about 250km/h, meaning it is currently right on the cusp of being a Category 5 - the highest on the Saffir-Simpson hurricane wind scale.
Category 4 typhoons have winds between 209 and 251km/h. Category 5 has winds of more than 252km/h.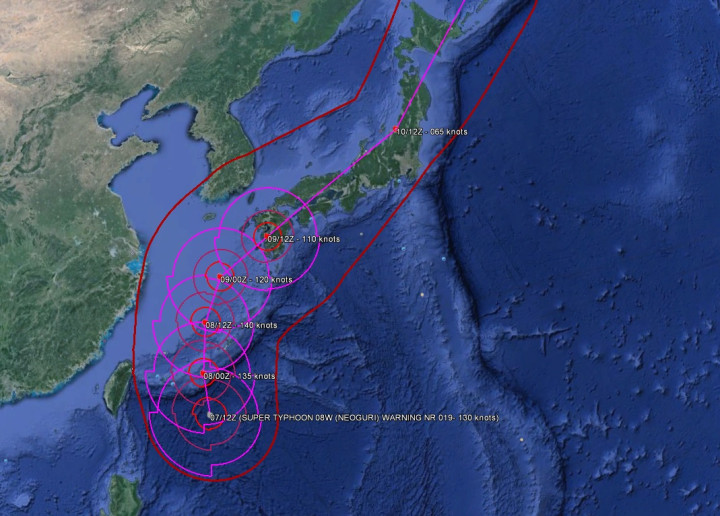 Typhoon Haiyan was a Category 5 and its winds at one point reached 315km/h. Haiyan, which was responsible for more than 6,000 deaths, had sustained winds of about 230km/h.
Should Neoguri turn into a Category 5, catastrophic damage is expected to occur: "A high percentage of framed homes will be destroyed, with total roof failure and wall collapse," the US National Hurricane Center notes. "Fallen trees and power poles will isolate residential areas. Power outages will last for weeks to possibly months. Most of the area will be uninhabitable for weeks or months."
"If it does not strengthen, damage is still expected to be severe, with trees uprooted, power poles downed and severe damage to even well-built framed homes."
According to AFP, Keiji Furuya, the state minister in charge of disaster management for Kyushu, said heavy rain ahead of Neoguri will increase the risk of landslides and flooding.
He said Kyushu, which is next to the main island of Honshu where Tokyo and Osaka are, should be evacuated immediately if the storm looks dangerous: "I'm calling on the heads of municipalities not to hesitate in issuing evacuation warnings and don't be afraid of being overcautious."