Super-Typhoon Neoguri to Hit Japan with 'Record-Level Winds' in Worst Storm for Decades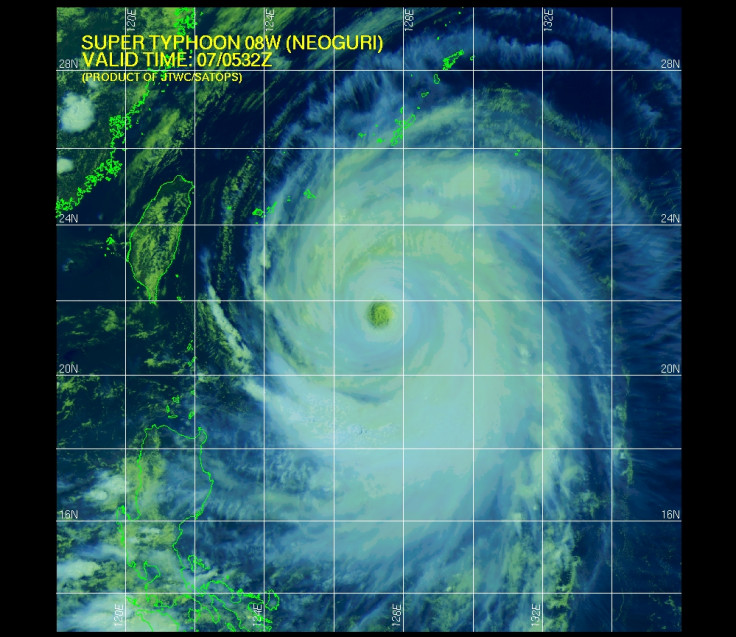 Japan is set to be hit by one of the worst storms in decades, with super-typhoon Neoguri expected to hit the country tomorrow (8 July).
Forecasters have warned people living on the southern Okinawa island chain - which the storm is set to hit first - not to leave their homes as Neoguri becomes "extremely intense".
A spokesman for Japan's Meteorological Agency said: "It is likely to come closest to Okinawa on Tuesday morning, generating violent gales and high waves ... and, in some areas, violent rains. Please be ready to evacuate before heavy rains begin to fall."
Brigadier General James Hecker, a commander at the Kadena Air Base in Okinawa, said conditions will become deadly as the storm approaches.
"I can't stress enough how dangerous this typhoon may be when it hits Okinawa," he said. "This is the most powerful typhoon forecast to hit the island in 15 years; we expect damaging winds to arrive by early Tuesday morning. So be prepared ...Tie down your outdoor items and work with your neighbours to help them.
"During the typhoon, do not go outside. Anything not tied down, even small items, could become deadly projectiles."
Neoguri will batter the island with winds of up to 320km per hour (198 miles per hour). The storm is then expected to hit the western island of Kyushu, where two nuclear plants are located. A spokeswoman for the Kyushu Electric Power Company told Reuters there are plans in place to protect the plant from severe weather.
As much as three inches of rain is expected to fall per hour at its peak and heavy rain already affecting Kyushu could lead to landslides, experts warn.
The storm is expected to be downgraded by the time it hits mainland Japan, but the Japan Meteorological Agency said the storm could generate "record-level winds" and high waves before this.
Jeff Masters, a meteorologist and founder of the Weather Underground forecasting service, said: "The ocean is very deep offshore of Okinawa, which will allow huge waves to crash against the coast. Shortly after passing Okinawa, Neoguri will get caught by a trough of low pressure and begin curving to the north, and likely hit the Japanese island of Kyushu, where the city of Nagasaki lies.
"Although ocean temperatures will cool and wind shear will rise as Neoguri approaches Japan, weakening the storm, the typhoon is so large and powerful that it will likely make landfall at Category 2 or 3 strength, causing major damage in Japan."
© Copyright IBTimes 2023. All rights reserved.