Microsoft has been refining its Surface range of tablets for three years now and they have been consistently improving, though the biggest drawback ironically remains the Windows 8 operating system.
With the promise of Windows 10 and specifically its ability to change from tablet to laptop mode instantly, the Surface project could be about to take off for Microsoft.
With the Surface Pro 3 earlier in 2015, Microsoft showed it could pack all the power of a desktop into a tablet – albeit one that was expensive and a bit unwieldy.
So enter the Surface 3, a less powerful but slimmer and more lightweight tablet with a lower price that promises to replace both your tablet and laptop.
Key Features
10.8in display (1920 x 1080)
Atom X7 chip, 2GB RAM; 64GB
MicroSD
Surface Pen
8.7mm; 622g
One year Office 365 subscription
Price as reviewed: From £419 (£109 extra for Type Cover and £49 for pen)
Microsoft calls it much more a smaller brother to the Surface Pro 3 than an evolution of the Surface 2 but is it any good?
Surface 3: Design
The Surface range has always been beautifully designed, engineered and built. Microsoft has to be commended for packing the guts of a laptop into a tablet. Microsoft has eliminated fans altogether here, allowing it to make the Surface 3 even slimmer (8.7mm) and lightweight (622g).
The problem has always been that while the Surface has been beautifully designed (and it is once again here), as a tablet it simply doesn't work.
The Surface Pro 3 with its 12in screen was certainly too unwieldy to use as a tablet and while the Surface 3 is more compact, I still found it to be bulky when moving on the move – something the Surface is designed for.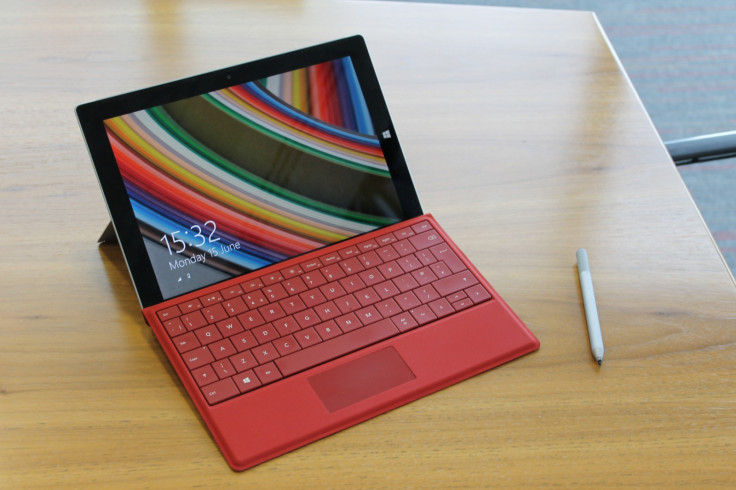 On the couch at home, it is fine and feels quite nice to hold, with its chamfered edges and metallic frame.
The kickstand has three pre-set positions and while they work in most situations, the infinitely adjustable Surface Pro 3 kickstand is definitely superior.
Surface 3: Screen
The Surface 3 10.8in screen features a Full HD (1920 x 1080) resolution, which is smaller and less sharp than the 12in (2160 x 1440) screen on the Pro model, but it is still great.
While it is relatively reflective, the screen is sharp, with great viewing angles and it is also nice and bright.
The 3:2 aspect ratio, which is more akin to an iPad than a typical laptop screen, does make it easier to use the Surface 3 in tablet mode. On the 12in screen of the Pro 3, this aspect ratio does makes more sense as you have more screen to work with.
Surface 3: Hardware
The Surface 3 is the first device to ship with the Atom X7 chip from Intel and for the most part, it lives up to the promise of delivering good performance while conserving battery life.
If you want to do some heavy image or video editing then the Surface Pro 3 is a better bet but the vast majority of people will be satisfied with the performance of the Atom X7 chip.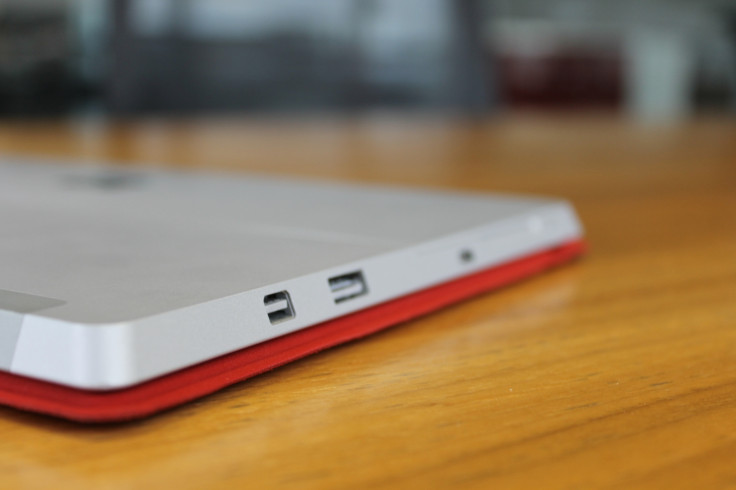 The Surface 3 is available in two configurations: a 64GB model with 2GB of RAM or a 128GB model with 4GB of RAM. Both models have a microSD card slot under the kickstand, which allows you boost storage by as much as 128GB.
In terms of connectivity, you still get a full-sized USB 3.0 port, which is a rarity on tablets these days but means connecting a mouse, hard drive or USB stick is very straightforward.
Microsoft has also replaced its proprietary charging port for a microUSB one, meaning you can charge the Surface 3 with most Android smartphone chargers. This is really handy if you forget the charger than comes in the box, but it should be noted that these chargers will power the device a lot slower.
A Mini DisplayPort will also allow you to drive a second screen while still using the Surface 3 as a tablet.
Surface 3: Battery life
One of the big claims by Microsoft about the Surface 3 is its battery life. It claims the Surface will give you 10 hours of video playback; while we didn't quite get that much, the Surface 3 will get you though most of a typical day of work without needing a recharge.
Surface 3: Keyboard and Pen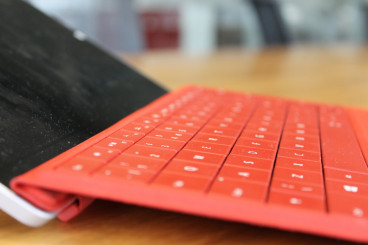 Microsoft doesn't sell a keyboard bundled with the Surface 3 as standard, which is absolutely crazy. Every ad you will see for Microsoft's tablet features the keyboard and rightly so, as it is one of the best aspects of the Surface range.
The latest Touch Cover keyboard for the Surface 3 looks almost identical to the Surface Pro 3 keyboard, though it is narrower due to the size of the Surface 3 screen.
But you still get the same size keys due to a much narrower bezel and Microsoft says it has improved the trackpad – but that's not saying much and you will still find yourself using the touchscreen instead.
However, the keyboard is great and the Surface range remains the high watermark in terms of tablet keyboards. And by it attaching to the bottom of the screen, the Touch Cover gives you a comfortable position for extended typing sessions.
But at £109, the keyboard is an incredibly expensive extra. As is the Pen, a digital stylus that is also an additional extra costing £49.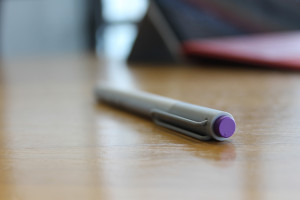 It is the same pen we saw in the Surface Pro 3 and has some really nice features. Click its top button and OneNote will automatically launch on the tablet, even if it is in sleep mode. This makes the Surface 3 a real replacement for a pen and paper, removing the barrier of unlocking the device and opening an app.
The Pen, which matched the premium build quality of the tablet, now also allows you to take a screenshot from anywhere, and paste that into a OneNote document for annotating.
Surface 3: Value and Verdict
Microsoft boasts the Surface 3 price starts at £419 in ads with a picture of the tablet and keyboard. The problem is that to get the keyboard you have to shell out an extra £109, meaning the lowest price for the set up shown in most ads is actually £518.
The higher spec model (128GB/4GB RAM) costs £499. Meanwhile, 4G models are coming soon, Microsoft said, but no pricing is available yet.
It should be noted that all Surface 3 models come with a year's Office 365 subscription (worth £60) and a three month trial of Sky's Now TV.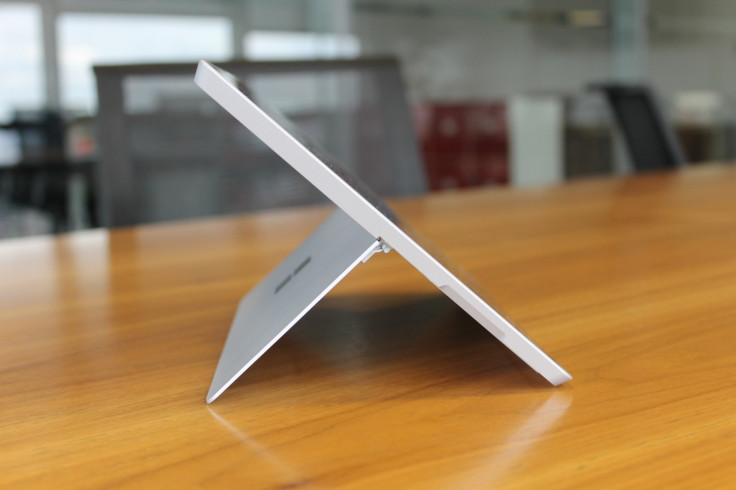 Microsoft should really just bundle everything together (tablet, keyboard and pen) and sell it for £499 all in. That would be a great deal as it has refined its tablet range to the point now where it is a viable laptop replacement, but only when it has a keyboard in tow.
On its own, the Surface 3 is an overpowered tablet, running software not designed for touch and without the app catalogue to make it a compelling purchase.
With an iPad Air 2 costing £399, Microsoft needs to leverage its biggest selling point – the Touch Cover keyboard – to entice people to buy the Surface 3.
Scores:
Screen: 8/10 - Not as sharp as the Pro 3 screen, but still very good

Design: 9/10 - Slim and lightweight with excellent build quality
Performance: 9/10 - Atom X7 gives a great balance of performance and battery life

Value: 8/10 - At £518 for the base model with a keyboard cover, the Surface 3 is not cheap but much more affordable than the Surface Pro 3
Overall: 8/10 - The best Surface model to date, combining great battery life with portability
The Good:
Great battery life
Slim and lightweight making it extremely portable
Type Cover is the best around
The Bad:
No keyboard included as standard
Still not great as a tablet