Key Features:
12in Clear Type display (2160 x 1440)
Up to Core i7, 8GB RAM; 512GB storage
MicroSD
Surface Pen
9.1mm; 800g
Surface Pro 3 Type Cover
Price as Reviewed: From £639 for tablet only (£109 extra for cover)
Surface Pro 3 Review
Thinner, lighter, faster, bigger and more powerful – the Surface Pro 3 has all the attributes to finally become the laptop replacement that Microsoft envisioned when it launched the original Surface tablet a couple of years ago.
It is designed specifically with Windows 8.1 in mind and Microsoft is hoping that it will inspire its manufacturing partners to create similar devices which show off what they believe to be the best aspects of the operating system.
But can it really replace your laptop and your tablet with a single device as Microsoft claims? Let's find out.
---
Surface Pro 3: Design
---
There is no getting away from the simple fact that from a an purely engineering point of view, the Surface Pro 3 is a phenomenal achievement.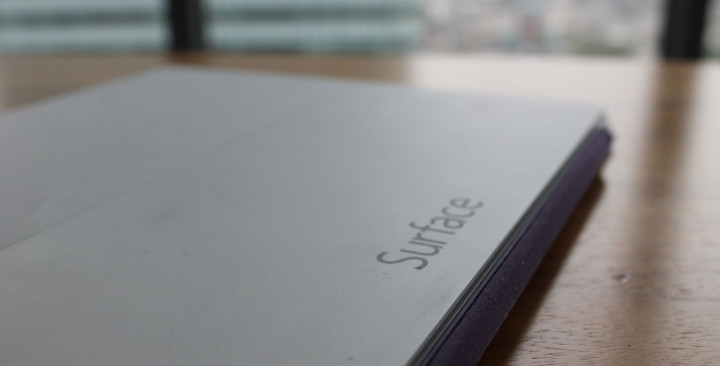 At just 9.1mm, the new Surface is significantly slimmer than its predecessor, with the Surface Pro 2 measuring 13.5mm. The new Surface is also significantly lighter than the previous model (800g vs 907g) despite having a larger screen.
For comparison, the 11in Macbook Air is 17mm thick (at its thickest point) and weighs just over 1kg.
The Surface Pro 3 feels premium and well-built, and while it may not have the design aesthetic of an iPad or Macbook Air, it has a particular industrial beauty of its own.
The kickstand on the Surface Pro 3, which has been a standout feature of the series, has also been redesigned. Now it allows for multiple positions, all of which feel sturdy and solid. Hinges may not get a lot of press, but this one is remarkable and deserves a lot of praise.

The new positions make it easier to put the Surface in the right position depending on where you are using it (on a table, on your lap, up the side of Mount Everest etc) and folds almost flat allowing for easier touchscreen typing.
The problem with the Surface Pro 3 is that while it is a lot lighter than the Macbook Air, it is a lot heavier than an iPad Air and at the end of the day, it is a tablet.
Try holding the Surface Pro 3 in one hand and you will soon see how unwieldy it is. While Microsoft says it makes a perfect travel companion, trying to read a book or a newspaper on this during you commute will lead to odd looks and sore wrists.
---
Surface Pro 3: Screen
---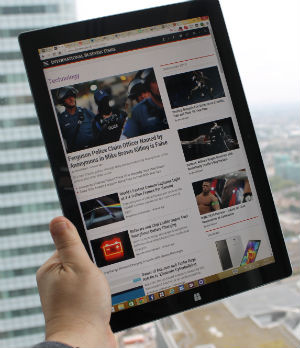 Microsoft has increased the screen size from 10.6in to 12in while boosting the resolution from Full HD (1920 x 1080) to 2K (2160 x 1440). This gives you 38% more screen space and 50% more pixels.
The screen also now has a 3:2 aspect ratio rather than 16:9, which makes it slighly easier to use in portrait mode, but still not very comfortable.
The quality of the screen, as you would expect, it great. Crisp, sharp and with great contrast and viewing angles, it's great for watching films, browsing the web and (if you can hold it for long enough) reading books.
---
Surface Pro 3: Type Cover
---
The big selling point in my opinion of the Surface range are the incredible keyboard covers Microsoft has designed to work with them. This makes it all the more incredible that one is not included as standard with every Surface.
The third generation Type Cover builds on the best parts of the previous models, but increases the size and responsiveness of the trackpad, as well as attaching to the tablet in a different way.
The Type Cover will now attach at an angle which makes typing on it while in your lap much easier. The cover is solid, and adds just millimetres to the profile of the tablet while the added weigh is hardly noticeable.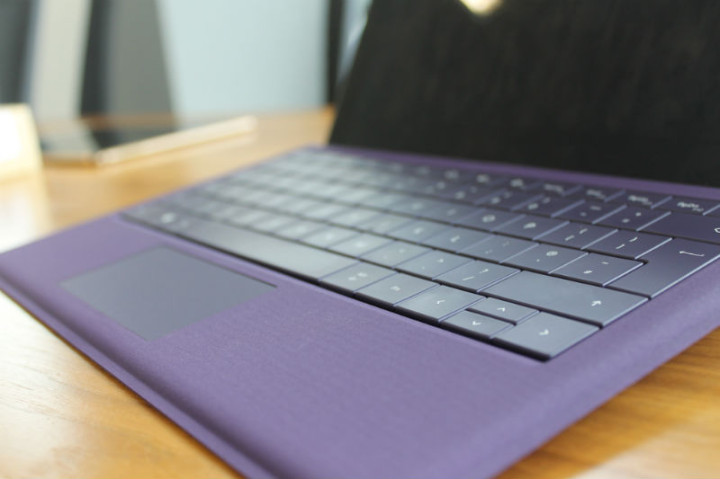 Type is fast and accurate with the latest Type Cover and the trackpad is certainly an improvement. However compared to a decent keyboard and tackpad on a traditional laptop, the Type Cover is still second best.
At £110, the latest Type Cover is not cheap, but without it, buying a Surface Pro 3 would be almost pointless.
---
Surface Pro 3: Pen
---
Along with the keyboard covers, the other notable innovation from Microsoft with the Surface range is the inclusion of a digital stylus.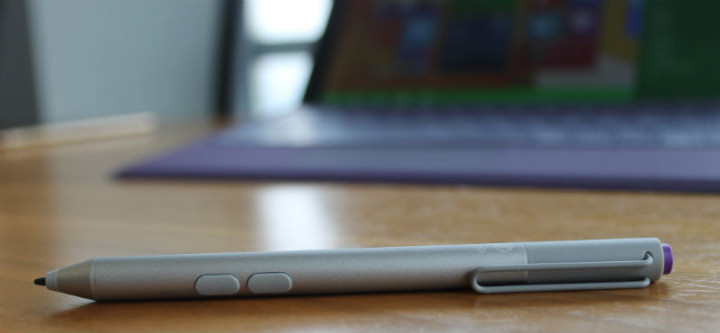 Included as standard, the latest version of the pen sees Microsfot add some notable features which make the accessory properly useful.
Click the pen's top button and OneNote will automatically launch on the tablet, even if it is in sleep mode. This makes the Surface Pro 3 a real replacement for a pen and paper, removing the barrier of unlocking the device and opening an app.
The pen, which matched the premium build quality of the tablet, now also allows you to take a screenshot from anywhere, and paste that into a OneNote document for annotating.
The pen doesn't slide into the Surface Pro 3, but does come with a clip to attach it to the side.
---
Surface Pro 3: Performance & Battery Life
---
The Surface Pro 3 is a real laptop replacement in terms of the processor power available. The tablet is available with Intel's latest Haswell chips (up to Core i7) and up to 8GB of RAM and 512GB of storage. (with a microSD card slot allowing a further 128GB to be added).
This means that the Surface Pro 3 is as powerful as any mainstream Windows 8.1 laptop on the market letting you do pretty much anything you could with such a system.
It is also a decent replacement for a graphics tablet and with the £165 sock and a monitor it can be a replacement for your desktop device too.
In terms of battery life, Microsoft is promising nine hours of battery life on the Surface Pro 3 and in our testing this was just about right. Nine hours for a tablet isn't anything to write home about, but for a laptop is very good.
---
Surface Pro 3 Value & Verdict
---
The base model of the Surface Pro 3 (Core i3, 4GB RAM, 64GB storage) costs £639 without a keyboard cover. With one, it costs £748.
In Microsoft's opinion, this would replace your iPad (£399) and MacBook Air (£749 - for the base 11in model) meaning you will save a hell of a lot of money.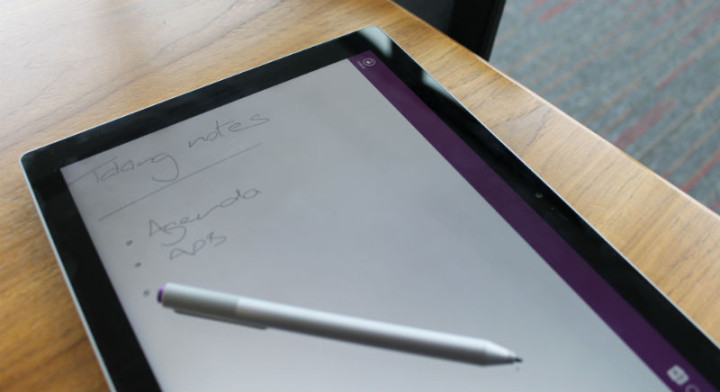 The problem is that it doesn't.
As a tablet, the Surface Pro 3 is too big and unwieldy. It's beautifully designed and is a marvel of engineering, but it is over 300g heavier than the iPad Air and Windows 8.1 still doesn't have anywhere near the number of tablet-optimised apps as iOS does.
As a laptop the Surface Pro 3 fares better. It is slim and light and the perfect travelling companion. For a business user, the Surface Pro 3 could easily be used as a laptop, desktop and note-taking device.
However for the general user, someone who isn't constantly on the move, there are as good, if not better, laptops out there for £749.
Indeed, Lenovo sells its convertible 11in Yoga laptop for just £450, a device which can double as a tablet for a lot less than the Surface Pro 3.
Microsoft has created a stunning product, but except for a very few limited use-cases, it is a solution for a problem that doesn't exist.
Scores:
Screen: 9/10 - Bigger and sharper, the Surface Pro 3 screen is superb
Design: 9/10 - Slimmer and lighter with excellent build quality
Performance: 10/10 - Latest Haswell chips mean top end performance and good battery life
Value: 7/10 - At £639 for the base model without a keyboard cover, the Surface Pro 3 is not cheap
Overall: 8/10 - Limited use-case to justify the cost
The Good:
Powerful with good battery life
Excellent screen
Type Cover is the best around
The Bad:
Expensive
No cover included as standard