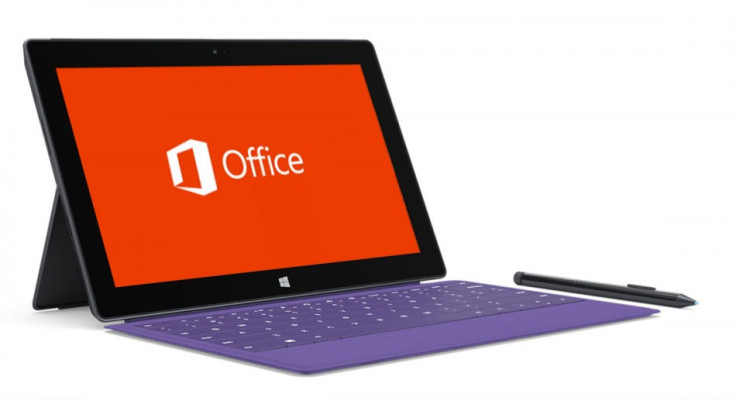 Key Features:
Windows 8.1 Pro
Up to 512GB Storage
10.6in Full HD display
Up to 8GB RAM
4th Generation Intel Core i5 processor
Price as reviewed: £719 (£99 Touch Cover 2 not included)
Microsoft Surface Pro 2
Microsoft made a number of waves last year when it unveiled its Surface tablets. As well as using them as reference devices for Windows 8 and Windows RT, it also marked the company's first move into the tablet/laptop business.
The experiment was not what you would call a huge success, with the company taking a $900 million hit on unsold Surface tablets. But it is not giving up, with two new tablets launched last month, the redesigned Surface 2 which is running Windows RT, and the tablet I have been using for the last two weeks, the Surface Pro 2.
This is seen by Microsoft as a fully-fledged PC, just in a form factor you are not used to seeing. It can be used as a tablet, a laptop and through the use of a docking station, a desktop PC too.
As the price would suggest, this is a serious piece of hardware, but can it replace all your devices at once?
Surface Pro 2: Design
Microsoft has hardly changed the design of the Surface Pro 2, maintaining the same dimensions, weight and screen as the original tablet.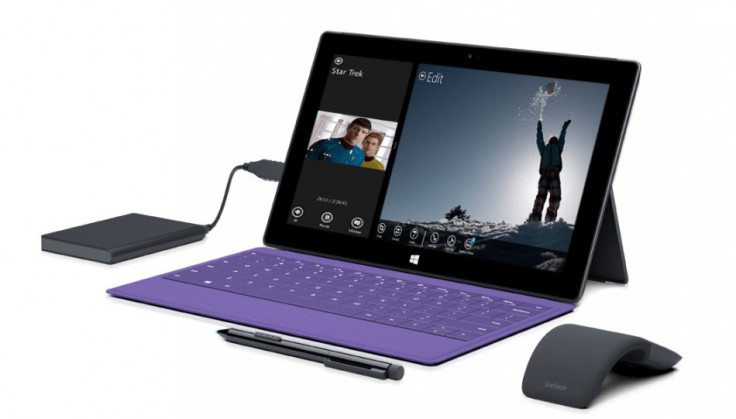 That means that compared to the likes of the iPad Air, this is a monster. It weights 907g and measures 13.5mm thick, which is a world away from the 469g iPad Air which is just 7.5mm thick.
It means that using the Surface Pro 2 as a tablet is not a very comfortable experience. Yes its large 10.6in screen makes is much better for productivity and for watching movies while sitting on the couch, but in terms of portability, it stinks. This is not a tablet you are going to see many people using on a regular basis outside of work or home.
That said the construction of the Surface Pro 2, like the original is excellent, with Microsoft's VaporMG material giving the tablet a very nice feel.
The only difference on the exterior is the kickstand, which has been redesigned to give you two positions rather than one. Developed following customer feedback, the new position is designed to make typing when on your lap easier.
While the option of having two different screen angles is a welcome addition, the kickstand now feels slightly less secure than last year's model, though it still works as you would expect.
Surface Pro 2: Screen
Virtually identical to last year's model the 10.6in LCD screen has a resolution of 1,920 x 1080 pixels and is still an excellent panel.
It has very wide viewing angles, no bleeding from the backlight, accurate colours and can be made bright enough to deal with reflections from our office lighting.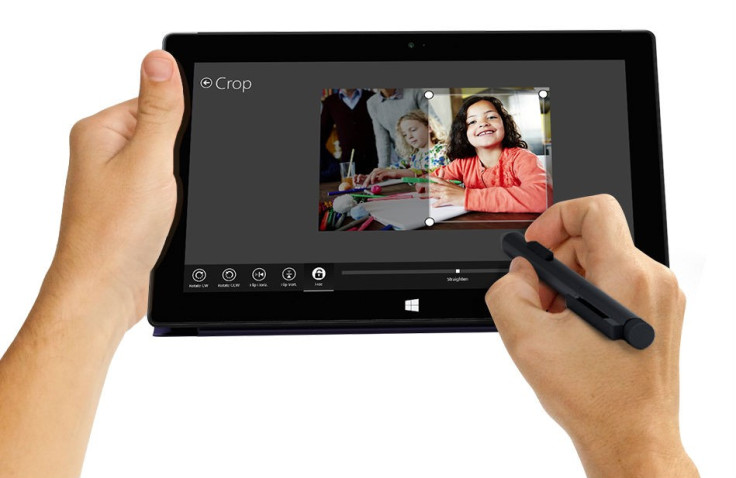 Microsoft says it has improved colour reproduction by almost 50% but this was not really noticeable in my time with the tablet.
Surface Pro 2: Stylus
Again identical to last year's model, the stylus which comes with the Pro 2 is a nice addition to the package and one of the things which makes the tablet stand out.
The stylus uses Wacom technology so will allow you to apply various levels of pressure to the screen, making apps for painting and drawing really shine on the Surface Pro 2.
The pen has an eraser on one end and a connector on the side which attaches to the power connector. However as with last year's pen the this isn't really a practical solution as the pen keeps falling off and a housing withint the tablet as seen on Samsung's Galaxy Note products would be a much better solution.
Surface Pro 2: Covers
While every advert you see for the Surface will have a keyboard attached, Microsoft has still decided not to include one with the tablet as standard.
Instead you will have to purchase either the Touch Cover or Type Cover separately - which is a bit galling if you've already spent £720 on the tablet itself.
Microsoft has also updated both covers for 2013.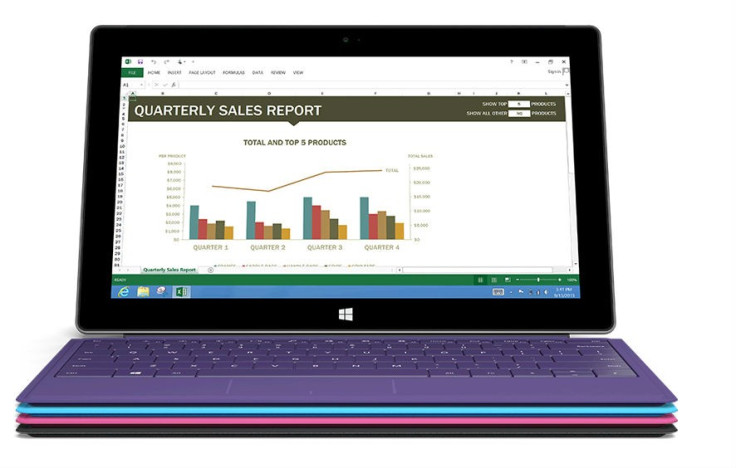 The Touch Cover 2 is even thinner and lighter than the original while also adding backlighting - a remarkable engineering achievement. The cover works amazingly well considering just how thin it is and the backlighting is controlled by a motion sensor, so it will only turn on when you're near.
The new Touch Cover is only available in black and will set you back £99 while the original has dropped to £65.
The Type cover is thicker but offers a 'proper' typing experience as well as adding backlighting. The Type Cover 2 costs £109 and comes in four colours (purple, magenta, cyan and black).
The covers both work really well, offering a typing experience you will find hard to replicate on any other tablet accessory - but still fall some way short of the speed and accuracy you get from a laptop keyboard.
Surface Pro 2: Connectivity
The latptop replacement credentials of the Surface Pro 2 are backed up by its wired and wireless connections.
Like the original you get a full sized USB port updated this year to USB 3.0; Mini DisplayPort for outputting video; as well as a microSDXC card reader.
The ability to just plug in a mouse, external hard drive or other USB accessory is something pretty much no other tablet can offer you, and for some will be crucial in deciding on purchasing the Surface.
Microsoft is also planning on releasing a desktop dock in early 2014 which will let you dock your Surface and connect it to a monitor and keyboard, essentially turning it into a traditional desktop PC.
In terms of wireless connection you get Bluetooth 4.0 along with Wi-Fi N, though it's unfortunate Microsoft didn't add support for the faster Wi-Fi ac standard. There is also no 3G/4G option available.
I did have problems with Marvell's wireless chip on my first review unit, but Microsoft said this was not a widespread problem and specific to the unit I was reviewing. I had no problems with my second review unit.
Microsoft is also throwing in a couple of added extras to sweeten the deal. Each new Surface Pro 2 comes with 200GB of SkyDrive storage for two years along with one year's worth of free Skype calls to landlines in over 60 countries.
Surface Pro 2: Performance
Again, under the hood, the Surface Pro 2 has enough power to back up its claims of being a true laptop replacement.
Fourth generation Intel Core i5 chips paired with 4GB or 8GB of RAM and up 512GB SSD make this a tablet like no other.
The power of the Haswell chip is there to see from the moment you turn it on, with the Surface Pro 2 taking less than five seconds to boot from cold, and less than three from sleep.
I never experienced any slowdown while using the tablet, allowing me to make the most of the full Windows 8.1 experience, running apps like Photoshop in the desktop environment without a problem.
Surface Pro 2: Battery Life
As well as the claimed 20% performance boost Haswell provides, Microsoft claims the new Intel chips will offer a 50% battery life boost.
But that's not all. Microsoft also claims that its engineers have completely reengineered the interior of the Surface Pro 2, giving users a further 25% battery life increase.
Battery life on the original was just four hours which for a tablet was woeful. In my original tests on the Surface Pro 2, I was only getting four-and-a-half hours, which was seriously disappointing.
However a recent firmware update to my review unit helped things dramatically, and I was able to get over six-and-a-half hours use out of the tablet.
Compared to the 10 hours of the iPad, it may seem paltry, but this is a viable laptop alternative and you therefore need to just it on those terms, making the Surface Pro 2 look much better.
Surface Pro 2: Value and Verdict
A Surface Pro 2 will set you back a minimum £800 when you factor in a cover to go with your new tablet. For that money you can get a pretty decent laptop and so the decision comes down to one of personal preference.
Do you want a device with the power of a laptop but that can be used as a laptop when needed? Or do you want a proper laptop, giving you more storage, more ports and a real keyboard?
The Surface Pro 2 is definitely an upgrade on last year's model, but I would have loved to seen a slightly sleeker, lighter design which I would be able to use as a tablet without straining my wrists.
The Surface Pro 2 is a reference device for Windows 8.1 and as such does a good job of showing what is possible with the platform, but will likely only appeal to a very limited number of people.
Scores:
The Good:
Laptop experience from a tablet
Unrivalled performance from tablet
The Bad:
No cover included as standard