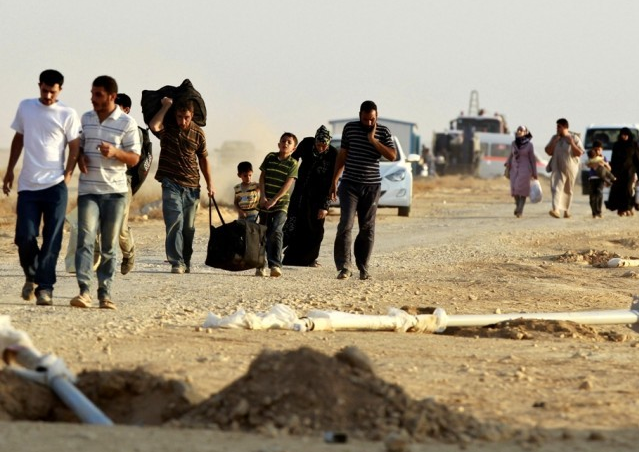 Sweden's migration agency has said it will offer permanent residency to all Syrian refugees who have claimed asylum in the country, after fleeing the civil war in their homeland.
The ruling from the Migrationsverket makes Sweden the first EU nation to offer a permanent home to Syrian refugees.
The agency has decreed that all Syrian asylum seekers will be granted full rights to remain in Sweden due to the extreme circumstances their country faces.
The decision applies to all Syrian asylum seekers who have been granted temporary residency for humanitarian protection.
It means an additional 8,000 Syrians who have been granted temporary residency in Sweden will now be able to stay in the country permanently. They will also have the right to bring their families to Sweden.
"All Syrian asylum seekers who apply for asylum in Sweden will get it," said Migrationsverket spokesman Annie Hoernblad.
"The agency made this decision now because it believes the violence in Syria will not end in the near future."
An estimated 14,700 Syrian asylum seekers arrived in Sweden in 2012 and 2013. The country has now accepted more asylum seekers from Syria than any other EU nation other than Germany.
Previously, around 50% of refugees had been denied the right to stay in Sweden permanently, instead receiving residence permits lasting only three years.
Hoernblad said the board expected that the "vast majority of Syrian nationals who today have provisional status will apply for permanent status".
However, the Migration Board warned that Syrians found to have committed war crimes or crimes against humanity would be stripped of their residency rights.
Syria situation 'extreme and marked by general violence'
The board bases its assessments on an asylum seeker's "individual or general need for protection". Its decision means it now judges the adverse security situation to be permanent.
The Migrationsverket said conditions in Syria were now "extreme and marked by general violence", and with no solution in sight.
Malek Laesker, the vice chairman of the Syrian Arabian Cultural Association of Sweden, welcomed the decision.
However, he warned it could inflame the debate on immigration, encourage people-trafficking, and cause problems further down the line.
"The fact that Sweden is the first country to open its arms is both positive and negative," he said.
"We already have a crisis around that issue in Sweden. I hope that our politicians solve it in a nice way."
Authorities were now braced for a renewed influx of asylum seekers fleeing the war-torn country. The UN estimates the overall number of refugees fleeing the conflict in Syria exceeds two million.
The developments came as US President Barack Obama arrived in Stockholm for talks with the Swedish prime minister, Fredrik Reinfeldt, ahead of the G20 summit in Russia. .