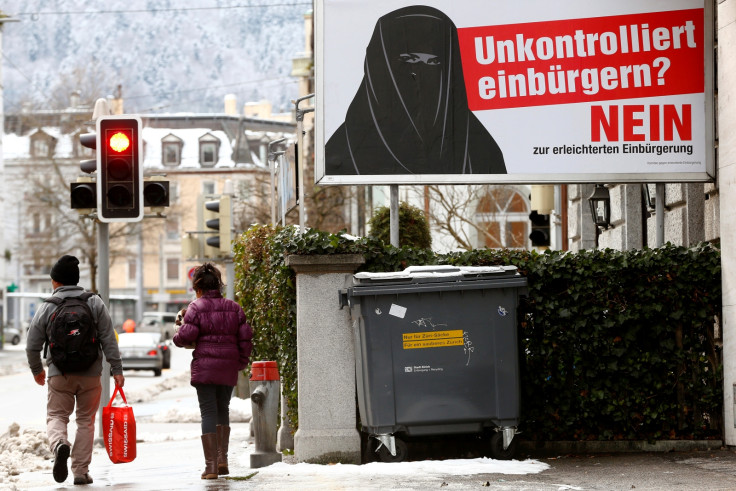 Swiss voters, on Sunday (12 February), approved measures to make it easier for third-generation immigrants to become citizens, in spite of a fear campaign targeting Muslims.
Billboards displayed around the country depicted a woman wearing the niqab – an ultra-conservative Muslim headscarf that reveals only the eyes – with slogans that read "no unchecked naturalisation".
However, in spite of the threatening imagery, the "Yes" vote to make naturalisation in Switzerland easier passed comfortably. It garnered 59% of the vote and secured a majority in 14 of the country's 26 cantons, according to national news agency ATS.
Under the constitutional amendment, people under the age of 25 who were born in Switzerland will now find it easier to become citizens, but they must still pass through a variety of hoops under the country's stringent laws.
Only those who went to school in the country for at least five years, share "Swiss values", speak one of the four national languages and do not depend on state aid can now undertake a simplified process to secure a Swiss passport.
Roughly a quarter of the country's population is foreign as a result of the relatively tight controls on becoming Swiss.
Though the new measure affects less than 25,000 of the country's eight million population, coming mainly from Italy, the Balkans and Turkey – according to a national migration study – right-wing campaigners attempted to stifle the vote by invoking religion.
The striking posters depicting Muslims were commissioned by the Committee Against Facilitated Citizenship (CAFC) and contained lawmakers from the right-wing Swiss People's Party (SVP), though they have denied direct involvement in the campaign.
Reacting to the defeat, SVP lawmaker and co-chair of CAFC Jean-Luc Addor said his side was "alone against everyone in this campaign".
"The problem of Islam, I'm afraid, it will catch up with us in a few years," he told RTS, reported AFP.
However mainstream politicians celebrated the victory and derided Addor's campaign as a "violent attack against Muslims".
In December, in the midst of the campaign, a gunman shot and killed three people at a mosque in Zurich, before his body was later recovered 300m away. It is not clear how the 30-year-old man died.