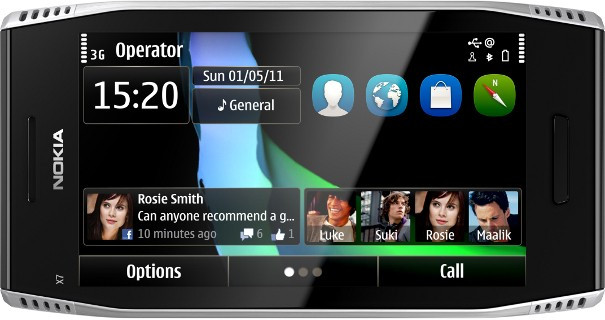 Finnish Phone guru Nokia released its latest entertainment focused smartphone the X7 loaded with its latest Anna version of the Symbian operating system, can the phone succeed despite the OS's ailing fortunes?
The X7 has been released and is available in the U.K. from Three. The device comes loaded with a large four-inch touch screen capable of 360x640 pixel resolution. It also houses an eight-megapixel camera, 350MB of internal memory and 8GB -- 16GB if you get it through Three -- of storage space.
The Nokia X7 is currently available for £30 per month on a two year contract, £420 on pay as you go and £420 sim free.
The device is currently the second on the market to be running Nokia's updated Anna version of its Symbian mobile operating system -- the other being the Nokia E6. The new Anna version promises Nokia smartphone customers numerous upgrades including new icons, faster web browsing, enhanced maps and improved text input.
Despite its reasonable spec analysts have already speculated that the device will not help to turn around the Symbian OS's ailing fortunes.
Samsung Apple and the Nomura report
A report from Nomura released last month speculated that Samsung will overtake Nokia to become the world's largest smartphone maker this financial quarter.
The report went on to predict that only one-quarter later, tech giant Apple and its ever popular iPhone 5 smartphone would also surpass it.
"In 1996 Nokia launched the Communicator and the smartphone market that it has led in unit terms ever since. After about 14 years at the top, Nokia looks set to relinquish its smartphone crown," commented Nomura analysts in a research note.
The key reasons highlighted for the drop in rank highlighted in the report, speculated that Nokia had lost the high-end market mainly as a result of its poorly developed Symbian OS -- arguing that Google's Android and Apple's iOS were picked up by the market quicker making it such that users now tend to be loyal to one or the other.
Add to this the fact the Nokia has inked a deal with Microsoft to ensure that its future smarphones will increasingly run using the Windows Phone OS and the company's home-grown Symbian OS may become even less appealing.
Nokia has already abandoned the sales targets it set on 31 May just weeks after revealing them.