Syria: 'Positive' Reply to Kofi Annan Plea to End Violence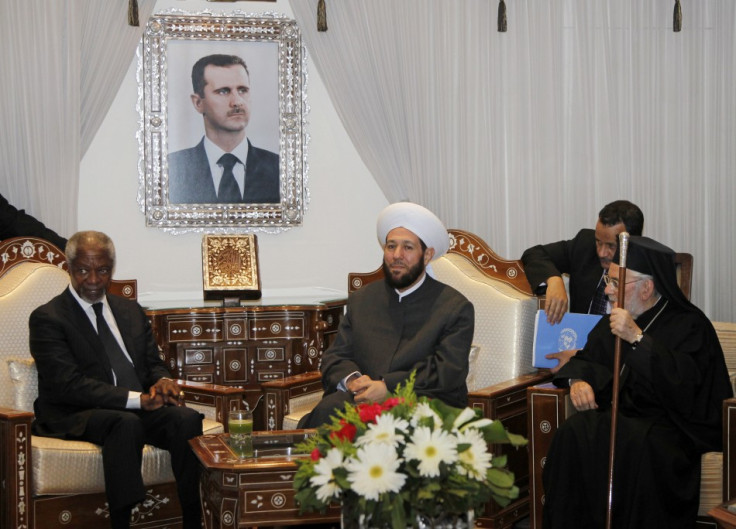 UN and Arab League envoy Kofi Annan confirmed that he has received a response from the Syrian regime about his entreaty to end the bloodshed.
There are still concerns about the possibility of reaching a deal to halt the violence, however, as President Bashar Al-Assad's forces intensify their assaults on rebel strongholds across the country.
The international mediator made "concrete" proposals to the Syrian president to stop the bloody crackdown on civilians, which started a year ago in the southern city of Deara'a.
The five-point programme included an early transfer of power while preserving the integrity of key state institutions, overhauling security services and putting in place a process of transitional justice and national reconciliation.
"The Joint Special Envoy (JSE) for Syria, Kofi Annan, has now received a response from the Syrian authorities. The JSE has questions and is seeking answers," his spokesman said.
"But given the grave and tragic situation on the ground, everyone must realise that time is of the essence. As he said in the region, this crisis cannot be allowed to drag on."
Diplomats close to Annan have described Syria's response as "disappointing", The New York Times reported.
But Syria said it had given a positive response to Annan. "The tone of our reply was positive," Foreign Ministry spokesman Jihad Makdesi told Reuters, adding that Syria had offered "clarifications" on implementing some of the proposals.
The northern city of Idlib fell to the Syrian army after a four-day assault, while the flashpoint city of Homs has come under renewed shelling, according to activists in the city.
Meanwhile, three prominent members have resigned from the Syrian National Council (SNC), the country's largest opposition group, citing its failure to support an armed insurgency as their reason.
A report by Amnesty International, based on the testimonies of dozens of witnesses who fled to Jordan, showed that widespread torture was inflicted on Syrians detained during the uprising, providing further evidence of crimes against humanity taking place in the country.
The human rights group has been encouraged by the International Criminal Court finding Congolese rebel leader Thomas Lubanga guilty of recruiting and using child soldiers, seeing it as a possible precedent for Syria. Neil Summonds, a researcher for the organisation who has been documenting alleged crimes against humanity in Syria over the past year, tweeted: "Freedom-loving Syrians (and others) now we have ICC precedents! amnesty.org/en/news/landma..."
Another researcher also commented on the Hague-based court's verdict, the first in its 10-year history: "The landmark #ICC verdict shows world's worst offenders for genocide, crimes against humanity & war crimes can be bought to justice #Syria."
© Copyright IBTimes 2023. All rights reserved.