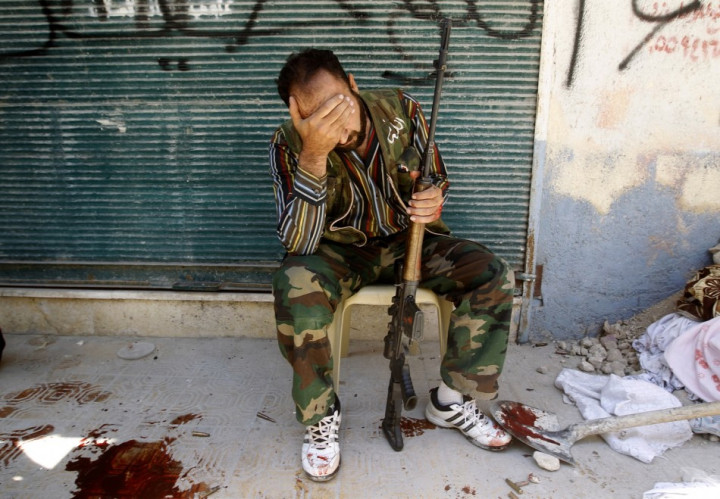 Iran and Russia, Damascus' closest allies, are to put up a joint diplomatic effort to ward off US military action in Syria while support for intervention loses momentum in the West.
Iranian president Hassan Rohani pledged opposition to a punitive strike on Bashar al-Assad's regime over the Ghouta chemical weapon massacre in a phone call with his Russian counterpart Vladimir Putin, Iranian state TV reported.
"Military action will bring great costs for the region," Rohani said. "It is necessary to apply all efforts to prevent it."
Military action would be an "open violation" of international laws, he said, and warned of it creating a domino effect in the region.
"Syria has a strategic and sensitive situation and any sort of military invasion would lead to instability in the entire Middle East," the freshly elected reformist president said.
A similar warning was made by Russia's foreign minister Sergey Lavrov.
Rohani condemned the use of chemical weapons but suggested that rebel forces may have been to blame for the gas attack that killed hundreds on the outskirts of Damascus.
Syria and Lebanese militant group Hezbollah have threatened to retaliate against Israel if the US and its allies carry out a large-scale operation.
The chief of Iran's powerful Revolutionary Guards, Gen Mohammad Ali Jafari, warned that Tel Aviv could be dragged into the conflict.
"The Zionists should know that a US military attack on Syria will not save the fake regime from the resistance but it means the immediate destruction of Israel," Jafari told Tasnim news.
President Barack Obama said US analysts had reached an unequivocal conclusion that the Syrian government was responsible for the 21 August massacre. Activists said the nerve gas killed more than 1,000 people.
"We have concluded that the Syrian government carried these out," Obama told NewsHour on PBS. "And if that's so, then there need to be international consequences."
Pro-intervention setbacks
But plans for a surgical missile strike sponsored by US, Britain and France have suffered from a series of setbacks.
In Britain, David Cameron dropped an early parliamentary vote to allow British involvement in Syria after Labour leader Ed Miliband pulled support from the motion until UN experts investigating the Ghouta incident release their report.
Meanwhile, US intelligence sources said that evidence collected to justify a reprisal strike was not undisputable.
Officials said that a Director of National Intelligence case against Assad was "not a slam dunk". There were still some doubts about whether Assad even knew about the attack or whether it was carried out by government forces at all.
UN Secretary-General Ban Ki-moon has also asked for time for the inspectors to complete their work.
Italy said it would not support intervention without a UN decision.
"It's worrying that people are already preparing a coalition of the willing even before tabling a resolution at the UN," Italian foreign minister Emma Bonino said.
"I don't know what this coalition is really willing to do. Punish Assad? End the conflict? I don't know."
Earlier, Bonino suggested that military bases in Italy might not be readily available for US forces as they were for the Nato campaign in Libya in 2011.
READ:
Syria Ghouta Gas Attack 'was Assad Revenge' [VIDEO]
Syria Ghouta Gas Attack: US-Led Strike 'Needs UN Security Council Approval' [VIDEO]
Ghouta Gas Attack: Syria and Hezbollah Threaten Reprisals Against Israel if West Attacks [VIDEO]
Syrian Electronic Army Conducts 'Malicious Attack' on NY Times, Twitter and Huffington Post
Syria Ghouta Gas Attack: Obama 'Not Seeking Regime Change'
Syria Ghouta Gas Attack: West is Monkey with a Grenade, Says Russia [VIDEO]