We're wrapping up our live blog from the House of Commons debate on military intervention in Syria. Among today's key points were:

Prime Minister David Cameron said military action in Syria by the UK would be a "judgment call" and there could be no 100% certainty that the regime used chemical weapons in Ghouta.
"This is not like Iraq. What we are seeing in Syria is fundamentally different."
Labour leader Ed Miliband said Cameron had to make a better case. He did not rule out support for military action but said MPs had to be "clear-eyed" about the impact.
"We must allow the UN inspectors to do their work. They are in a midst of their work and report in the coming days. That's why today we can't vote on the military action. Evidence precedes action, not action precedes evidence."
15:54 Conservative chair of the intelligence and security committee Sir Malcolm Rifkind criticises Miliband for refusing to accept the concessions offered by Cameron. He said that Miliband is a man
"incapable of taking yes for an answer"
15:39 Miliband:
Ed Miliband says decision on Syria must be taken in calm, measured way and not to a political timetable
We should not rush the judgement in this question.
He says government case for intervention in Syria doesn't mention "compelling evidence"
Cameron has to make "a better case than he did today", Miliband says.
15:29 Miliband: Miliband says he did not talk about having a "UN moment".
15:24 Miliband: We must allow the UN inspectors do their work. They are in a midst in their work and report in the coming days. That's why today we can't vote on the miltary action. Evidence precedes action, not action precedes evidence. Inspectors cannot reach verdict on who to blame for chemical attack.
Some argue that that makes their conclusions irrelevant. Miliband says he disagrees.
He says that UN inspectors can give legitimacy on the findings. They could give the world greater confidence in identifying perpetrators.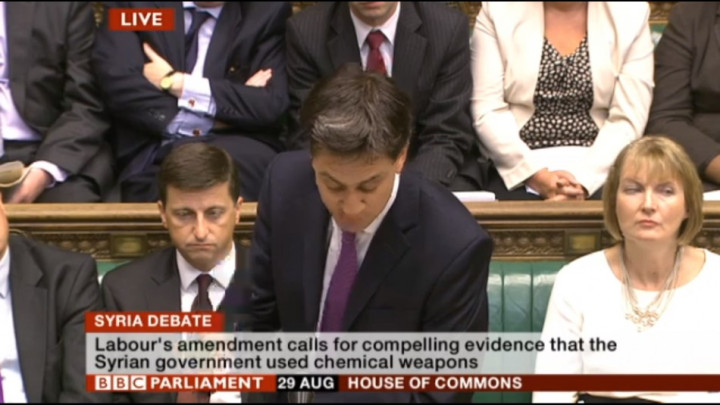 15.18pm Ed Miliband: No divide on the condemnation of chemical weapons use
I don't think anybody in this House or the country should be in any illusions of the effect of intervention.
He doesn't rule out military action. But says we need to be clear eyed of the impact that this will have.
Miliband says the sequential UN roadmap is the way to go
15.10pm Cameron: This is about chemical weapons, this is not about intervention this is not about getting involved in another Middle East war
15.00pm Cameron: The Syrian regime has admitted that it was carrying out operations in the area. There is no way that the video footage of the victims could have been fabricated.
Cameron quotes from the JIC report:
"The regime has used CW on a smaller scale on at least 14 occasions in the past. There is some intelligence to suggest regime culpability in this attack. These factors make it highly likely that the Syrian regime was responsible."
There is no 100 percent certainty on who is responsible. We have to make a judgement about who is responsible and whether to intervene or not.
Assad's regime has used chemical weapons at least 14 times and is probably testing boundaries. "But we cannot know the mind of this brutal dictator
14:48pm: Cameron: The UN is not the only way to have the legal basis for action.
I'm not arguing we should get more involved in this conflict, not arguing we should arm the rebels.
DUP's Sammy Wilson asks why Cameron only supports intervention now if, Syria has already used chemical weapons 14 times, as stated by the JIC.
Cameron: We know there are 14 uses of chemical weapons on a smaller scale and now we have a larger use. You cannot accuse me of rushing but saying why we are not doing something
14:46pm Cameron says the Labour amendment has "much to commend it" but attacks it, saying it has two deficiencies.
"In no way does the Opposition motion point the finger to Assad. I've spoken to Australia, Canada, India. It's at odds with JIC [the Joint Intelligence Committee] and it would be the wrong message to send to the world."
14.43pm David Cameron: Obama is a man who opposed action in Iraq. He believes [this time] that an important red line was crossed in appalling way. We could not stand aside because of damage done to public confidence by Iraq. We have to follow serious steps to build confidence [at the United Nations]. These steps are all set out.
In 2003 I was sitting there, just after baby was born, and i just wanted to stand there and listen to man making his argument for the war in Iraq.
Debate is absolutely vital. No action can be taken until we've heard from UN inspectors and another vote in this House.
2.40pm David Cameron: Question is how to respond to one of the most horrible uses of chemical weapons in this century. It's not about taking sides. It's about large use of chemical weapons. How to respond to war crimes and nothing else.
Everything we do must be legal, proportionate.
I'm deeply mindful of the lessons of previous conflicts, especially what went wrong with Iraq.
This is not Iraq.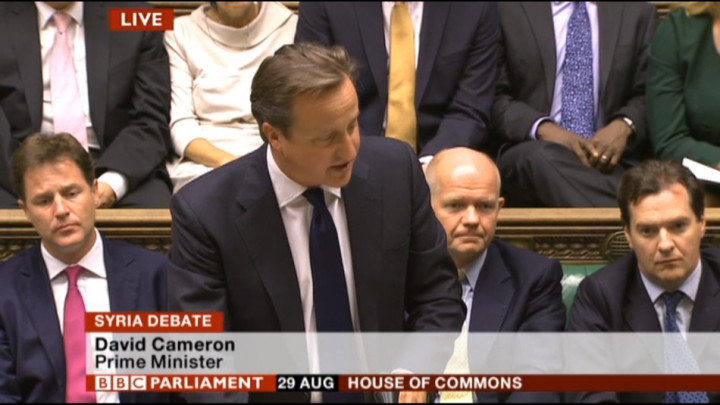 2.35pm David Cameron about to open debate in parliament on military action in Syria
2.30pm Labour MP Diane Abbott has voiced again her opposition to UK's military action in Syria. "The British public is overwhelmingly against military action in Syria," she told the BBC. "I believe it's illegal. People support Ed Miliband. David Cameron did not read his party correctly."
Conservative MP Sarah Wollaston also said she will vote against David Cameron's motion: "I feel unhappy on how the consequences would be - the idea you would change attitude by bombing people. I would [vote for military action] if supported by Arab League and UN."
2.25pm Welcome to the live coverage of the emergency debate on Syria.
MPs have been recalled from their summer break to discuss a possible military intervention in Syria in response to the alleged chemical weapons attack in the eastern outskirts of Damascus, in the Ghouta region, in which at least 300 people were killed.
Contrary to what was originally planned, the vote will not be on approval of military action after a U-turn by Prime Minister David Cameron. He said that the vote would not authorise intervention until a second Commons vote after the UN had been fully consulted. Instead, today's vote will be on the broad principle of military action.
Labour leader Ed Miliband said he would put pressure on Cameron with a vote on its own amendment.
He told the BBC: "We've got to learn the lessons of Iraq because people remember the mistakes that were made in Iraq and I'm not willing to have those mistakes made again.
"One of the most important lessons from Iraq is about giving the United Nations - which is the body that we are part of - the proper chance to do its work. And I believe that if we tried to make that decision today on military action, we wouldn't have been giving the United Nations the proper time to do that work."
Miliband did not rule out voting against the government's motion but said he was not opposed to military action in Syria in principle.
The Labour amendment said that the party would only support military action involving UK forces if the UN weapons inspectors produced evidence that chemical weapons have been used in Syria and the UN Security Council have voted on the matter.
It would support a strike on Syria if it had a clear legal basis in international law.