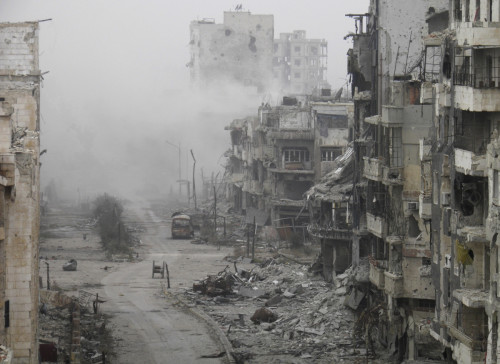 US Secretary of State John Kerry has urged splinter rebel groups in Syria fighting against President Bashar al-Assad to take part in the upcoming peace talks in Switzerland.
Kerry's remarks have come as the main rebel group, the Syrian National Coalition, holds a vote in Istanbul on whether or not to attend the peace talks in Montreux.
The negotiations, dubbed Geneva II, will begin on 22 January and organisers hope they will bring an end the three-year-long conflict in Syria.
Kerry said in Washington: "On the eve of the Syrian opposition coalition general assembly meeting tomorrow to decide whether to participate in Geneva in the peace conference, the United States ... urges a positive vote.
"We do so knowing that the Geneva peace conference is not the end but rather the beginning."
The latest US comments underline the uncertainty regarding the participation of Syria's rebel groups - even though the National Coordination Body, the country's centrist rebel outfit, has said it will attend.
Kerry insisted the talks are "about establishing a process essential to the formation of a transitional governing body with full executive powers, established by mutual consent.
"It [the summit] is the only way to bring about an end to the civil war that has triggered one of the planet's most severe humanitarian disasters, and which has created the seeding grounds for extremism."
Kerry said any individual chosen to lead the transitional phase in Syria should be acceptable to both the Syrian regime and the anti-Assad groups.
Amid high expectations over the forthcoming talks, the Syrian regime has dashed hopes of a potential breakthrough.
"Don't expect anything from Geneva II. Neither Geneva II, not Geneva III nor Geneva X will solve the Syrian crisis. The solution has begun and will continue through the military triumph of the state," said Syria's National Reconciliation Minister Ali Haidar in Damascus.
The 34-month conflict in Syria has claimed nearly 120,000 lives so far with no end in sight. What began as an uprising against Assad has gradually spiralled into a full-fledged civil war, leaving tens of thousands as refugees.
More than 1,000 people are believed to have been killed in the past two weeks alone.