Syrian President Bashar al-Assad's latest remarks have provoked a sharp response from opponents and critics, after he urged Syrians to defend the nation from the "enemies of God".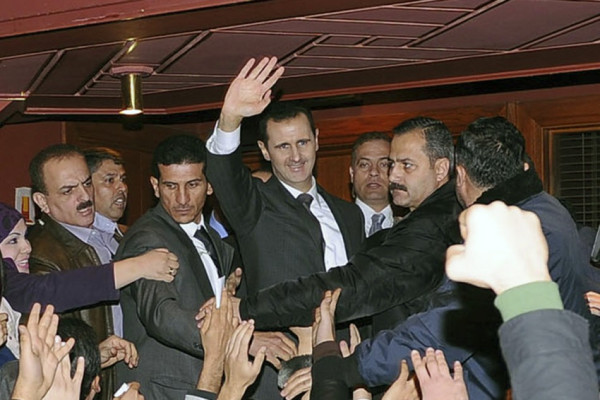 Assad made a rare public speech on 6 January. The televised address was said to be a fresh initiation for a peace plan to end the 21-month-long crisis. However, the president did not step down from his hardliner position
Washington has snubbed Assad's comments over the ongoing conflict in Syria, saying the defiant speech "was yet another attempt by the regime to cling to power".
The US State Department replied:
"His initiative is detached from reality, undermines the efforts of Joint Special Representative Lakhdar Brahimi, and would only allow the regime to further perpetuate its bloody oppression of the Syrian people."
The European Union (EU) has also reacted strongly to Assad's comments, by reiterating its previous stand that he has "to step aside and allow for a political transition".
Meanwhile, Syria's neighbour and former ally Turkey responded:
"His remarks are just repetitions of what he's said all along. It seems he's locked himself up in a room and only reads the intelligence reports presented to him."
"Politically speaking, we are for reform, but we should use force to defeat terrorism. The state is defending its people. There is no question about it, it is constitutional and legitimate, it is self-defence. Spreading their ignorance, they have tried to entrench suffering," the Assad said in his first public speech since June.
The address was broadcast on Syrian state-television.
The Syrian National Coalition (SNC) also condemned Assad's hour-long speech, with George Sabra, the vice president of the bloc, speaking to Reuters:
"We should see it rather as a declaration that he will continue his war against the Syrian people. The appropriate response is to continue to resist this unacceptable regime and for the Free Syrian Army to continue its work in liberating Syria until every inch of land is free," adding that Assad's speech did "not even deserve to be called an initiative."
Assad's comments have come at a time when Brahimi is intensifying his efforts in narrowing the differences between the US and Russia. The Syrian president gave his speech from central Damascus, a move which has been seen by analysts as a bid to stamp his authority over the capital while anti-Assad rebels continue to capture large parts of the country.