US Secretary of State John Kerry has urged Syria's government and the opposition to agree to a fresh ceasefire amid heavy fighting in Aleppo. The State Department announced that Kerry will fly to Geneva on 1 May for planned talks with the UN special envoy for Syria and the foreign ministers of Jordan and Saudi Arabia.
The talks are aimed at reaffirming a nationwide "cessation of hostilities" and salvage a faltering peace process. At least 246 civilians have been killed in Aleppo since regime forces began an offensive to retake rebel-held parts of the city on 22 April, according to the Syrian Observatory for Human Rights.
The US and Russia brokered a nationwide truce between the various warring factions in Syria in February, but observers say it is in danger of collapsing amid a recent spike in violence in some parts of the country.
The two powers implemented a temporary ceasefire in Latakia and Damascus on 30 April, but the truce did not apply to Aleppo.
Washington has called on Russia to rein in the regime's "indiscriminate aerial attacks" on Syria's largest city, but Moscow claims the air strikes have targeted the al-Nusra Front jihadist group.
'Indiscriminate attacks'
State Department spokesman John Kirby said Kerry had expressed "deep concern" about Aleppo during phone calls with UN envoy Staffan de Mistura and Syrian opposition coordinator Riad Hijab on 30 April.
"The secretary made clear that we urged Russia to take steps to stop regime violations, especially its indiscriminate aerial attacks in Aleppo," he was quoted as saying by AFP.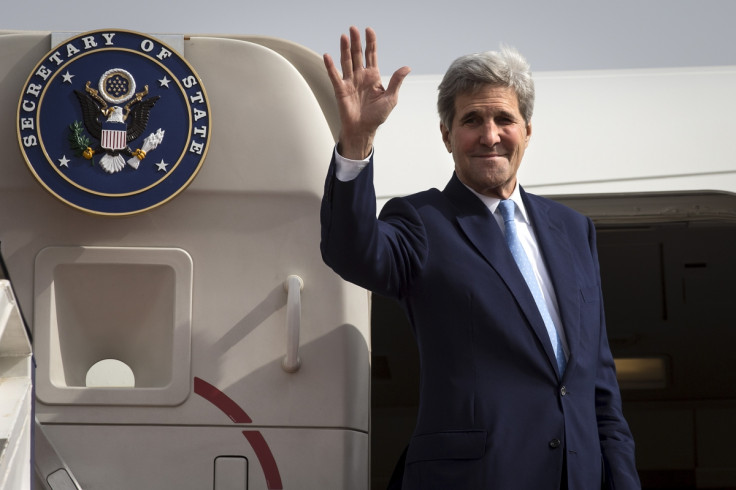 "The Assad regime continues to escalate the conflict by predominantly targeting innocent civilians and parties to the cessation of hostilities – not Nusra, as the regime falsely claims. Such attacks are direct violations of the cessation and must stop immediately," Kirby added.
"The secretary underscored that the initial efforts to reaffirm the cessation of hostilities in Latakia and Eastern Ghouta are not limited to these two areas and that efforts to renew the cessation must and do include Aleppo."
The five-year Syrian Civil War has claimed the lives of more than 250,000 people. An estimated 4.5 million people have fled the country and some 6.5 million have been internally displaced.