US Secretary of State John Kerry has warned the Syrian regime of "repercussions" if it does not adhere to a ceasefire amid renewed fighting in Aleppo. Up to 20 civilians were killed and dozens more injured after rebel fighters fired rockets and shells on government-controlled territory in the city, including a hospital, according to the Syrian Observatory for Human Rights.
More than 250 people have been killed in Aleppo over the past 12 days, threatening to derail a "cessation of hostilities" agreement between the government and rebels that came into effect in February.
Speaking in Washington, Kerry said he was hopeful of restoring a nationwide ceasefire in Syria, so that humanitarian and peace efforts can resume in the war-torn country. "If Assad does not adhere to this, there will clearly be repercussions, and one of them may be the total destruction of the ceasefire and they go back to war. I don't think Russia wants that," he said.
"I don't think that Assad is going to benefit from that, but there may be even other repercussions that are being discussed, but that is for the future to determine."
The US and Russia implemented a temporary ceasefire — a so-called "regime of calm" – in Latakia and Damascus on 30 April but the truce does not extend to Aleppo.
'Cautiously hopeful'
The UN's special envoy for Syria said he was cautiously optimistic of a truce being implemented across Syria after holding talks with Russian Foreign Minister Sergei Lavrov in Moscow on 3 May.
"Perhaps in the next few hours, we will be able to have a re-launch of the cessation of hostilities under whatever name we want to call it," Staffan de Mistura said. Lavrov said Moscow and Washington were close to striking a deal on extending the "regime of calm" to Aleppo.
"The process of agreeing a ceasefire in Aleppo is being finished right now between Russian and American military personnel," he was quoted as saying by Reuters.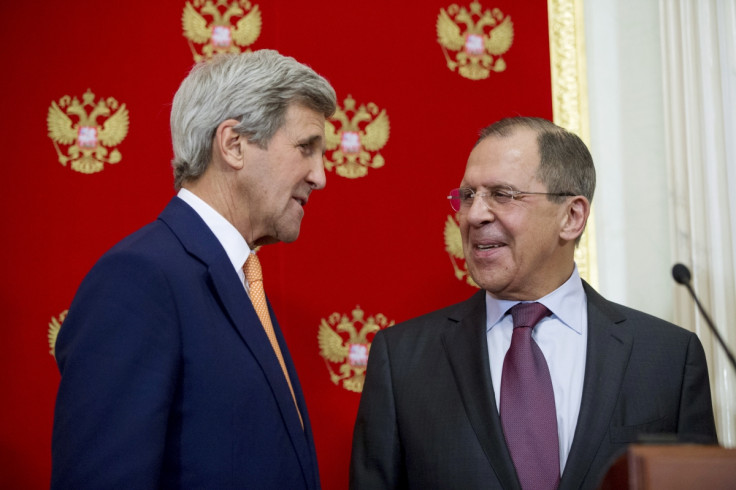 Kerry warned the Syrian regime against pursuing a military solution to the five-year civil war.
"If Assad's strategy is to somehow think he's going to just carve out Aleppo and carve out a section of the country, I got news for him — this war doesn't end. It is simply physically impossible for Assad to just carve out an area and pretend that he's somehow going to make it safe while the underlying issues are unresolved in this war.
"And as long as Assad is there, the opposition is not going to stop fighting him, one way or the other," the US secretary of state added.
Hospital attacks
As fighting continued in Aleppo, the UN Security Council passed a resolution calling for an end to attacks on medical facilities in war zones. Last week, an air strike on a rebel-held hospital in Aleppo killed at least 55 people, with the US pointing the finger of blame at the Assad regime.
"All too often, attacks on health facilities and medical workers are not just isolated or incidental battlefield fallout, but rather the intended objective of the combatants. This is shameful and inexcusable," UN Secretary General Ban Ki-moon said.
The Syrian Civil War has claimed the lives of more than 250,000 people. An estimated 4.5 million people have fled the country and some 6.5 million have been internally displaced.