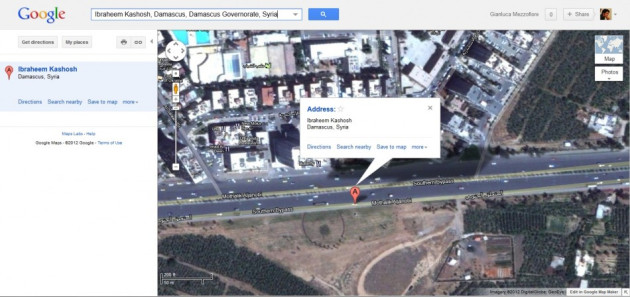 Syrian anti-government activists have used a Google crowd-sourcing programme to rename streets after their revolutionary martyrs, according to reports.
The idea is to symbolically oust President Assad's family from the history of the country and commemorate those who have died in 11 months of unrest.
""They have the right to be remembered by the Syrians," said Rwadan Ziadeh, a representative of the Syrian National Council exile group. "They are making new history."
The internet giant relies on crowd-sourcing programmes such as Map Maker to update streets, bridges and boulevards. The programme, introduced a few years ago, allows anyone with a Google profile to make edits to Google Maps, relying on Wikipedia-style community moderators to clean and edit entries before approving them.
The Washington Post reported that one of Damascus's main street, named after president Bashar al-Assad's father and former dictator Hafez al-Assad, is now called Ibraheem al-Kashosh, an opposition activist who was killed in July 2011.
A Syrian envoy accused Google of changing Syrian street names during a UN General Assembly meeting on human rights record on Monday.
"This is a flagrant violation of the United Nations General Assembly, the resolution of the Arab League pertaining to the standardisation of the geographic nomenclature," Bashar al-Jafaari said.
"What does Google have to do with the names of streets in Syrian cities? What is this website doing changing the names of streets in small Syrian cities and villages? Is this not part of the war [that foreign powers have been waging against Syria]?"
Google builds its maps from "a wide range of authoritative sources, ranging from the public and commercial data providers, user contributions and imagery references," spokeswoman Deanna Tick told the Washington Post.