Protesters gathered in Parliament Square and St James' Square to demonstrate against the presence of an Iranian minister at the Supporting Syria and the Region conference in London.
Iran's foreign minister Javad Zarif joined representatives from more than 70 other countries and organisations on 4 February to discuss the refugee crisis, but human rights activists and members of the Iranian resistance said he should not be involved.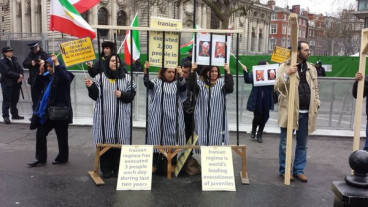 Hossein Abedini, UK spokesperson and member of the National Council of Resistance of Iran (NCRI), said: "It is absolutely outrageous that Zarif is a part of the conference, when he is part of a regime that has sent thousands of people to fight in Syria to slaughter the Syrian people.
"The regime in Iran has been sending tens of billions of dollars to [President Bashar al] Assad so it is illogical and irrational to involve him in the conference – it is like inviting an arsonist to put out the fire."
The conference is intended to raise international aid for refugees fleeing war in Syria, with Prime Minister David Cameron today announcing that he would double the UK's spending on refugees, pledging an extra £1.2bn ($1.8nm) in support over the next four years.
The conference has also seen Sarah Brown, executive chair of the Global Business Coalition for Education (GBC-Education), outline commitments from the private sector to help support 1 million Syrian refugees in Lebanon, Jordan and Turkey get an education this year.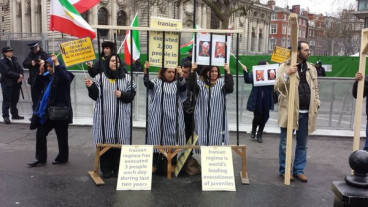 It is thought that the private sector has pledged £75m towards a range of programmes, including teacher training.
However, it is not known what the conference attendees have made of the presence of human rights activists and members of the Iranian resistance, who were joined by politicians including Labour MP Steve McCabe.
Waving banners calling for an end to human rights abuses in Iran and Syria, the hundred-strong crowd stood outside the conference in the morning of 4 February, moving along to demonstrate outside parliament in the afternoon.
"People wanted to come to the conference to highlight the appalling human rights abuses in Iran, but also the atrocities in Syria too," Abedini continued. "We are protesting Zarif's presence here."