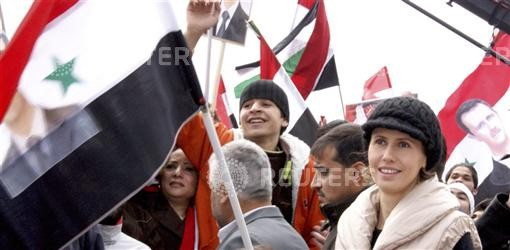 Embattled Syrian President Bashar al-Assad and his wife Asma made a public show of solidarity at pro-regime rally, scotching rumours that she had filed for divorce.
Asma al-Assad, and the couple's three children, Hafez, 10, Zain, 8, Karim, 6, joined Bashar al-Assad as he addressed supporters in Damascus. Just a day after making a rare public speech, Al-Assad reiterated claims the Syrian uprising is the result of a foreign conspiracy.
The leader said his regime would remain victorious and thanked the crowd for its support.
His wife was seen smiling throughout his speech. The appearance was widely reported in the Arab media with commentators saying Assad wanted to prove the dynastic dimension of the regime was not under threat.
The public show of devotion followed speculation that Asma had left the president, filed for divorce and returned to London.
A former investment banker born and raised in Britain, the Syrian first lady who was described in February 2011 by Vogue as a "rose in the desert" has in recent months seen her popularity nose dive.
Taking an active role within the regime, she had previously received an award from Italy for her "humanitarian efforts".
She also was praised for supporting the Palestinian cause and was described by various western newspaper and commentators as a "reformer".
However since the beginning of the anti-regime uprising ten months ago she has kept a low profile, making very few public appearances.