Air strikes and shelling have killed more than 60 people in less than 24 hours in the northern Syrian city of Aleppo. At least 27 people died as a hospital supported by Doctors Without Borders and the International Committee for the Red Cross and nearby buildings were hit in a rebel-held part of the city. Further air strikes on residential areas killed at least 20. Dramatic photos show people – including a small child – being rescued from collapsed buildings amid clouds of dust.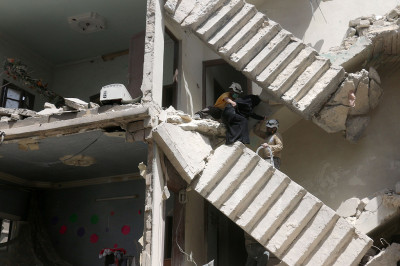 Hossam Abu Ghayth, 29, a documentary film-maker living in the rebel-held area of Kalasa in Aleppo, told Reuters by WhatsApp: "There are still planes (flying) ... They're hitting everything, mosques, markets, residential buildings, field hospitals. Dozens of people are under the rubble and the Civil Defence cannot dig out the bodies because of the intensity" of the bombardments.
The al-Quds hospital in the rebel-held district of Sukkari was hit shortly before midnight, according to opposition activists and rescue workers. Six hospital staff and three children were among the 27 who died there. The hospital has been one of the main medical centres operating in Aleppo since the city became deeply divided in 2012.
A Syrian military source said government planes had not been in areas where air raids were reported. Syria's army denied reports that the Syrian air force targeted the hospital. In government-held areas, rebel mortar shelling killed at least 14 people, the Observatory and Syria's state news agency SANA reported.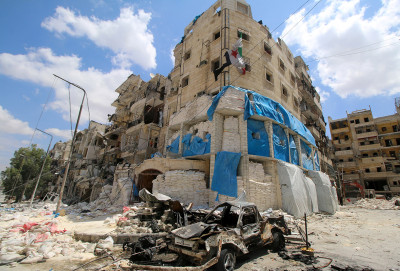 The city of Aleppo is at the epicentre of a military escalation that has undermined peace talks in Geneva to end the five-year-old war. UN envoy Staffan de Mistura said that in the past 48 hours there had been an average of one Syrian civilian killed every 25 minutes and one wounded every 13 minutes.