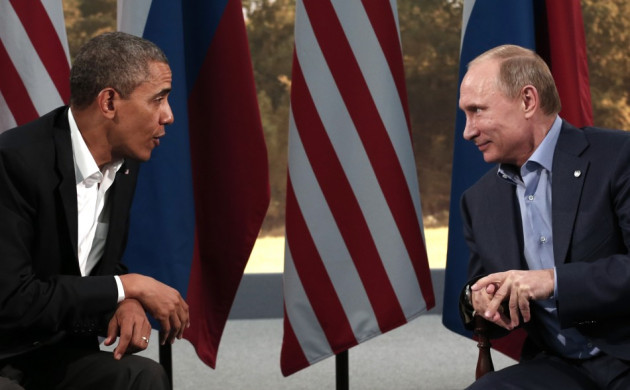 US President Barack Obama and his Russian counterpart Vladimir Putin discussed the ongoing Syrian civil war on the sidelines of the G8 summit in Northern Ireland.
Both leaders reiterated their differences regarding solutions to the Syrian conflict, but pledged to cooperate with each other.
"Our positions do not fully coincide, but we are united by the common intention to end the violence, to stop the number of victims increasing in Syria, to resolve the problems by peaceful means, including the Geneva talks. We agreed to push the process of peace talks and encourage the parties to sit down at the negotiation table, organise the talks in Geneva," said Putin during the joint press conference after their talks.
Both Obama and Putin looked tense during their address, and made little eye contact during the occasion.
As the clashes in Syria intensify, heightened by the increasing participation of Lebanon-based Hezbollah militants and Iran, Washington has decided to arm the rebels fighting against Assad.
"With respect to Syria, we do have differing perspectives on the problem, but we share an interest in reducing the violence; securing chemical weapons and ensuring that they're neither used nor are they subject to proliferation; and that we want to try to resolve the issue through political means, if possible," said Obama.
Russia's position of supporting Syrian President Bashar al-Assad is likely to face stern criticism during the remaining summit later in the day. Other G8 nations are likely to step up their efforts in urging Russia to heap pressure on Assad.
"It's a clarifying moment to see what kind of commitments the Russians are willing to make in a leading world forum," a British delegate in the summit said, according to Reuters.
However, it is still unclear whether Moscow would yield to the pressure of other nations.
The Syrian conflict, which so far has claimed more than 93,000 lives, continues to dominate the two-day G8 talks.