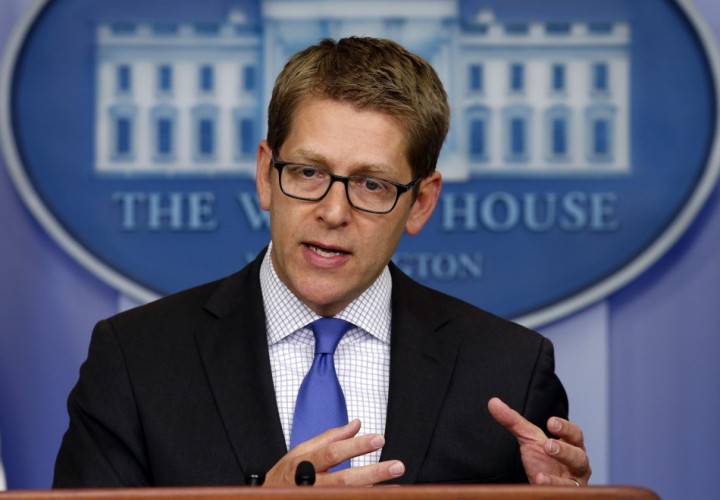 US president Barack Obama was still undecided on taking military action on Syria but his options did not include a regime change, according to White House spokesman Jay Carney.
As multiple reports quoting anonymous US officials warned that strikes in Syria would begin in a matter of days, Carney stressed that Obama had not planned to convene Congress over a possible attack.
Carney said it was preposterous to suggest that president Bashar al-Assad's forces were not responsible for the chemical attack in the Damascus suburb of Ghouta, which resulted in the deaths of 300 people.
"I don't think there's any doubt that chemical weapons were used so the transgression is established," he said.
He pointed out that the opposition did not have the capability of the military and cited a high-confidence assessment from the intelligence community confirming that the Syrian regime has used chemical weapons during the conflict.
"The president continues working with his national security team reviewing the options [on Syria]", Carney said. "When he's made a decision he'll announce it.
"The options we are considering are not about regime change - they are responding to clear violations of international standards of use of chemical weapons," he added.
"We are engaged in effortd to support opposition against the Assad regime, stemming from the conviction that Syria's future cannot include Assad in power."
Asked about Obama's statement while running for president in 2007 that a president could only take unilateral war action without congressional approval in the case of an actual imminent threat against the US, Carney said: "Allowing [the asserted chemical attack] to take place without a response would present a significant threat to the United States."
READ:
Syria Ghouta Gas Attack: West is Monkey with a Grenade, Says Russia [VIDEO]
Syria: US Intervention Fears Spur Oil Price Spike as John Kerry Warns of Chemical Attack 'Consequences'
Syria: US Asks Greece for Military Base Access
Ghouta Syria Gas Attack: David Cameron Recalls Parliament on Twitter
Ghouta Massacre: Syria will Become 'Another Vietnam' if West Attacks [VIDEO]

European Markets Down as Syria War and US Debt Fears Mount
Asian Markets Choppy on Syria War Fears
Syria Opposition Calls Off Geneva Peace Talks as Russia Warns US Over Strike
Syria: UN Inspectors Convoy Hit by Sniper Fire on Ghouta Mission
Syria: Assad's Army Officers 'Unaware' of Rockets Loaded with Toxic Gas in Ghouta Attacks
Syria: Strike Against Assad 'Within International Law' Says William Hague
Syria: Western Chemical Weapons Experts Cast Doubt on Obama Nerve Gas Claims
Medecins Sans Frontieres Confirms Syria Chemical Deaths