Syria Geneva 2 Peace Conference: The Main Goals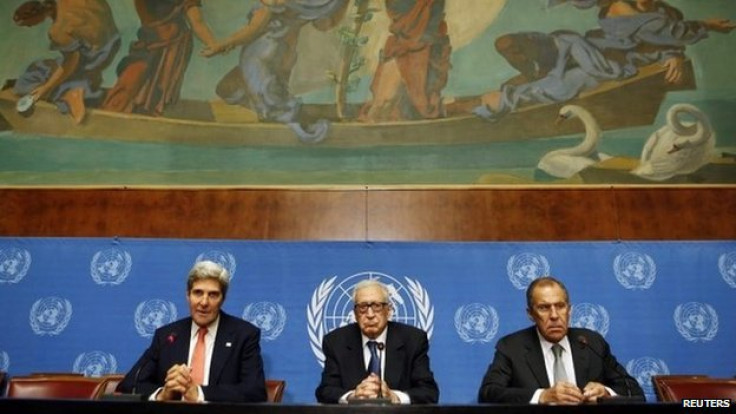 Thirty countries have sent their envoys to Geneva to attend the second session of the peace conference aimed at ending the Syrian conflict.
Here are the main objectives for delegates struggling to find a way to end the three-year-old civil war.
Bring both sides to the table Negotiations between rebels and government are necessary to end violence that has killed more than 130,000 people and uprooted 9.5 million.
UN Secretary General Ban Ki-moon withdrew Iran's invitation after rebels threatened to boycott the conference. The UN U-turn was welcomed by the Syrian opposition and the US but Russia insisted that Iran should participate.
Create a transitional government The Syrian conflict quickly descended into a civil war as forces loyal to the government and rebels who aim to end President Assad's regime clashed and violence escalated.
The creation of a transitional government with full executive powers that could include members of the government and opposition is a necessary precondition for for peaceful democratic elections.
According to the Geneva Communique, released in June, any political settlement must offer a perspective for the future that can be shared by all in Syria. The communique said that the transition had to be credible, and reached rapidly in a climate of safety, stability and calm for all Syrians, without further bloodshed.
Assad, however, said that he would not step down nor share power with the opposition. He also said he intended to run for re-election.
Implement the six-point plan Launched by former UN Secretary-General Kofi Annan in March 2012, the plan urges Syrian authorities to:
1. Commit to work with the envoy in an inclusive Syrian-led political process to address the legitimate aspirations and concerns of the Syrian people;
2. Commit to stop the fighting and achieve urgently an effective United Nations supervised cessation of armed violence in all its forms by all parties to protect civilians and stabilise the country
3. Ensure timely provision of humanitarian assistance to all areas affected by the fighting and accept and implement a daily two-hour humanitarian pause
4. Intensify the pace and scale of release of arbitrarily detained persons, including especially vulnerable categories of persons, and persons involved in peaceful political activities

5. Ensure freedom of movement throughout the country for journalists and a non-discriminatory visa policy for them
6. Respect freedom of association and the right to demonstrate peacefully as legally guaranteed.
© Copyright IBTimes 2023. All rights reserved.