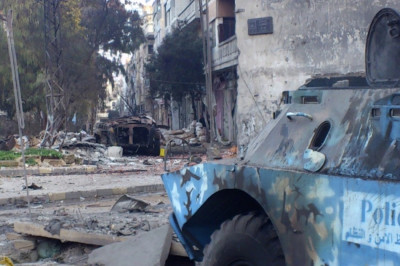 A further 50 people have been killed in Homs as Syrian president Bashar al-Assad's troops continue their bombardment of the rebel city.
The death toll rose again as the bombardment by Syrian government troops entered its fifth day, the Syrian Observatory for Human Rights, which is based in Britain, said.
While most of the deaths were caused by shelling and gunfire by the security forces, reports said that members of three families were stabbed to death in the Assabil and Nazihin neighbourhoods by the shadowy pro-government militia called Shabiha
Dressed in plain clothes and working with the government, members of the Shabiha have been accused of killing and targeting civilians across Syria for months.
Activists said that the bulk of the shelling targeted the district of Baba Amr, where some buildings had been flattened. Other areas, such as Khaldiyeh, Bayada, Karm el-Zeytoun and Wadi Iran, were also targeted.
Residents of Homs said that power cuts had left them isolated as all communications had been cut off. They said they were trapped in Homs and unable to leave.
The renewed attacks on Homs came just a day after Assad told Russia's foreign minister Sergei Lavrov he was open to a dialogue with the opposition and "committed to the cessation of violence".
Government officials continue to blame "armed terrorists groups" for the violence, saying they attacked police in Homs and fired mortar bombs at the city.