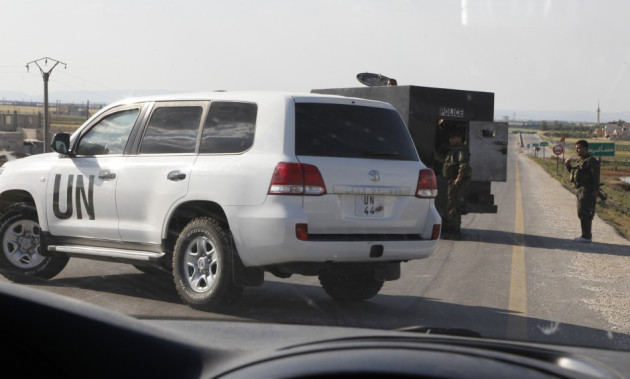 A roadside bomb has hit vehicles accompanying UN peace observers in Syrian's southern province of Daraa, wounding eight people in the latest breach of the UN-backed ceasefire agreement.
Major General Robert Mood, the head of the UN mission, was in the convoy, but there were no reports of any of the observers being injured.
The convoy was about to enter the town of Daraa, which has been the cradle of a 14-month uprising against Assad's regime.
Also cars belonging to the Syrian state media were damaged in the blast, Addounia television reported.
"We were driving behind the U.N. convoy as protection when a roadside bomb exploded, wounding a 1st Lieutenant and five troops," a soldier who asked to be identified only by his first name, Yahya, told The Associated Press at the scene.
It is not clear whether rebel or governmental forces are behind the blast.
Syria's rebel leader colonel Riad al-Assad has threatened to restore attacks due to the government's frequent breaches of the ceasefire.
UN and Arab League envoy Kofi Annan has given a bleak assessment of the crisis in Syria claiming his peace plan could be the last chance to avoid civil war in the country.
He told UN Security Council that the priority in Syria was "to stop the killing", but the 14-month bloodshed if far from finished. He added that his six-point peace plan is "the only remaining chance to stabilise the country".
Annan warned that the doomed prospect of a Syrian civil war would affect neighbouring countries. ""It will not affect only Syria," he said. "It will have an impact on the whole region and this is why we should all be so concerned for the Syrians, for Syria, and for a region that for geopolitical reasons we should all be concerned about."
US ambassador to the UN Susan Rice said American purpose was still the toppling of Assad.
"The United States remains focused on increasing the pressure on the Assad regime and on Assad himself to step down," Rice said.
"The situation in Syria remains dire, especially for the millions who continue to endure daily attacks and are in urgent need of humanitarian assistance."
The UN observers were part of a resolution approved on April authorising the deployment of up to 300 unarmed military observers to Syria for three months to monitor the ceasefire which has been widely ignored by both sides.
About 9,000 people have been killed by Syrian security forces, the UN said. Damscus claims rebels have killed 2,600 police and security force personnel.
But Annan claimed the presence of UN observers has had a sort of calming effect on the crisis.