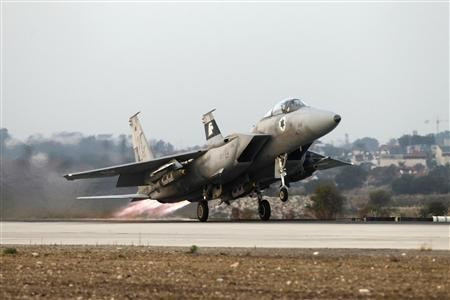 Israel has stepped up its aerial activity over the Lebanese airspace in the last few days raising tensions over possible bombardment of Syria.
The Lebanese army reported that several Israeli fighter jets and drones have been flying over Lebanon violating its airspace.
On earlier occasions, Israeli jets had carried out airstrikes on Syria's installations during swift sorties over Lebanon.
"At 4:35 in the morning, an Israeli reconnaissance jet violated Lebanese airspace over the village of Alma Shaab [south of Lebanon] and conducted aerial manoeuvres over the south. The jet left at 7:20 am flying over the village of Naqoura," said the Lebanese army in a statement.
The statement added: "On Monday, at 7:30 am, an Israeli drone violated Lebanese airspace from above Kfar Kila village, executed a circular flight pattern over the south and West Bekaa regions, and then left at 5:30 pm from above Naqoura village."
One of the drones had also made a "circular flight pattern" over the southern region, said the army.
Lebanon recently lodged a complaint against Israel in the UN for violating its airspace.
Lebanon has increasingly been dragged into the Syrian conflict by the participation of the Shiite militant group Hezbollah in support of Syrian President Bashar al-Assad.
Latest reports suggest that more than 4,000 Hezbollah insurgents have been drafted to assist Assad's troops in the onslaught against the rebels in Aleppo.
"The number of Hezbollah members who have entered Aleppo has exceeded 4,000. They are stationed at the Military Engineering Academy in preparation for an attack on the city of Aleppo," Louay Meqdad, spokesperson of the Free Syrian Army (FSA), told Ash Sharq al-Awsat daily.
However, he insisted that the extra presence of Hezbollah combatants will not shift the balance of power in Aleppo as anti-Assad groups are determined to take control of the city.