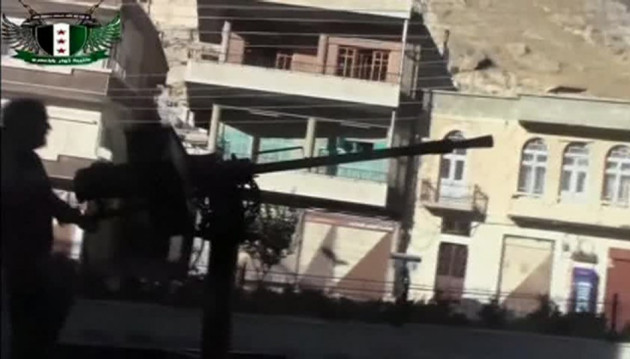 The Mother Superior at an ancient Syrian monastery has denied pro-Assad propaganda claims that Christian holy sites have been pillaged by rebels battling for control of the city of Maaloula.
Intense clashes between Syrian government troops and opposition forces, some of them linked to al-Qaida, have forced the majority of residents to flee the historic Christian town north of Damascus, which was a pilgramage site for Christians and Muslims alike.
The violence has raised concerns that several churches and the important Greek Orthodox nunnery Mar Thecla - visited by Christians and Muslims for its alleged miraculous healing properties - could be damaged or destroyed in the fighting.
Reports circulated that the monastery was pillaged by rebel forces. But Pelagia Sayaf, the Mother Superior at Mar Thecla, denied those reports in an interview with Reuters.
The British-based Syrian Observatory of Human Rights (SOHR) reported that 18 rebel fighters have been killed and over 100 injured during the fighting, which has seen militia loyal to Assad temporarily enter Maaloula before being pushed back by rebel forces. Reuters claims that Maaloula changed hands three times in just six days.
"The army pulled back to the outskirts of the village and both [rebel groups] are in total control of Maaloula now," Abdul-Rahman, a spokesman for the SOHR, said.
Members of the al-Qaida-linked Nusra front have said they now renounce any intention to occupy Maaloula.
"Soon we will withdraw from this city not out of fear but to leave its homes to their owners. They were not our target. Our target was mainly military," a member of Nusra said in a YouTube video.
Christians account for 10% of Syria's population.
Thousands of Christians around the world gathered to feast and pray for peace in Syria last Saturday, following a five-hour prayer session led by Pope Francis in St. Peter's Square.