Russian bombers have attacked rebel-held areas of Aleppo in Syria following several days of relative calm, according to the UK-based Syrian Observatory for Human Rights (SOHR).
Around 275,000 civilians remain trapped in Aleppo. According to SOHR, at least 50 civilians were killed in eastern Aleppo and nearby villages, including Bustan al Qasr where a medical centre and children's playground were said to have been hit.
Zakaria Malhifji, of Aleppo-based Fastaqim rebel group told Reuters: "There is renewed bombardment and it is heavy."
However, insurgents fighting against the regime of President Bashar al-Assad are also accused of killing civilians. SOHR claims that it has reports that rebels shelled a school, killing five people including children. Rebel groups in the area denied the allegations.
Since the operation by government forces to retake Aleppo began on 22 September 2016, 290 people, mostly civilians, are thought to have been killed. Russia has been widely criticised for bombing indiscriminately and allegedly attacking hospitals. Russia denies targeting civilians.
The renewed assault on the city comes as Russia's actions were branded as war crimes. UK Foreign Secretary Boris Johnson said Russia was in danger of becoming a pariah nation. He called on protesters to demonstrate outside the Russian embassy, which quickly drew a sharp rebuke from Moscow.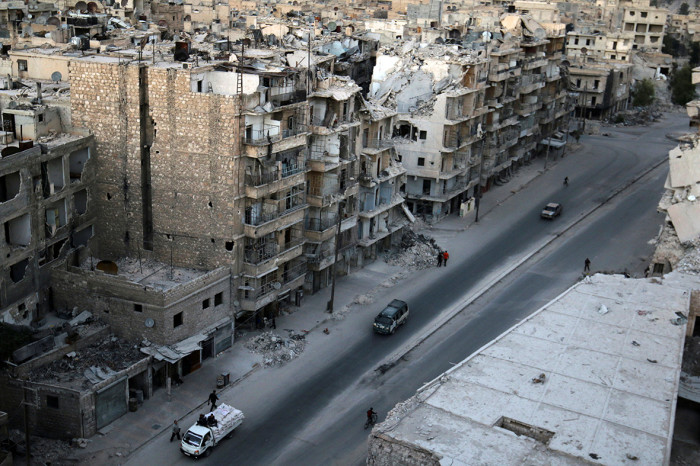 "I would certainly like to see demonstrations outside the Russian embassy," said Johnson. "Where is the Stop the War Coalition at the moment? Where are they?"
Russian Foreign Ministry spokeswoman Maria Zakharova said Johnson's comments were "embarrassing." Zakharova told Russian outlets: "Apparently Johnson has moved from words to actions and used a weapon, with which he threatened Russia — embarrassment. We find it embarrassing."
The latest diplomatic rift comes as President Putin cancelled Syria talks with French President Francois Hollande, which were scheduled for later in October.