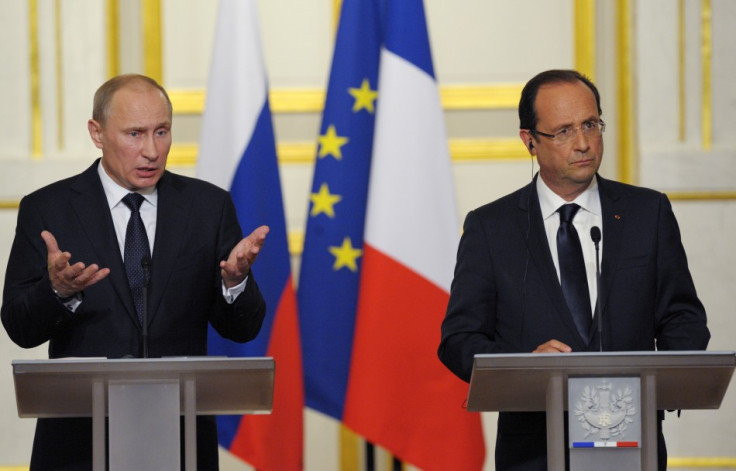 Russian President Vladimir Putin maintained his position on Syrian crisis on Friday and supported the Assad regime while resisting any tough sanction proposed by the western powers.
Putin was of the opinion that the peace plan proposed by UN Arab League special envoy Kofi Annan to be given more time to restore normal situation in Syria.
Putin was on a European tour and expressed his resistance to any military action in Syria at a joint press conference with the French President Francois Hollande after a meeting with the latter.
However, Hollande was of the opinion that the Syrian president Bashar al-Assad's departure would only bring an end to the more-than-a-year-long bloodshed in the Syrian soil.
"No solution to this crisis is possible without the departure of Bashar al-Assad. I believe that more sanctions are an essential part of a political solution," Holland was quoted by Reuters as saying.
Though the west called for tougher actions against the regime, Syria's key ally, Russia continued to support Assad.
The French socialist president also failed to convince his Russian counterpart on the US-backed tougher sanctions against Damascus. Moscow rejected it saying the sanctions are unbalanced.
"We are not for Assad, not for his opposition. We want to reach a situation where violence ends and a large-scale civil war is averted," Putin said after the meeting with Hollande, reported Reuters.
Citing Libya as an example, Putin questioned the current situation in Libya after the expulsion of Gaddafi. He also added that Moscow was tricked by the western powers in the decision of military intervention in Libya. Putin insisted that the sanctions would not work and more time should be given for Syria in order to restore the peace plan.
France earlier proposed the military intervention by the international community in Syria to solve the situation which was also backed by other countries.
arlier, the US Secretary of State hit out at Russia saying the current situation in Syria will lead to civil war which in turn will catch up across middle-east, if Russia continues to support the Syrian government.