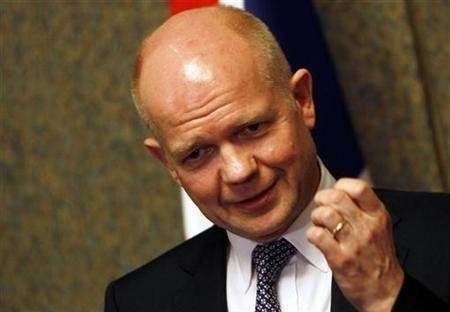 Foreign secretary William Hague has warned that military action in Syria cannot be ruled out as UN secretary general Ban Ki-moon and US Secretary of State Hillary Clinton claimed that the country is on the brink of a catastrophic civil war.
Hague told BBC Radio 4 said that if the Kofi Annan peace plan failed, Britain would have to look at all options, including military intervention in Syria.
"We would do that with our allies, bearing in mind, of course, what can be secured at the UN security council and what is practical and effective," he said.
"So we're not ruling anything out, but a military intervention in Syria, as I've always pointed out, would have to be vastly greater in scale than was the case in Libya and it would have to enjoy very broad international support. So we're not at that stage at this point now."
Ban urged embattled Syrian president Bashar al-Assad to implement the six-point peace plan by Annan, which many consider dead in the wake of the massacre of more than 100 civilians, including 49 children, at Houma.
"I demand that the government of Syria act on its commitment to the Annan peace plan," Ban told a conference in Turkey. "The massacres of the sort seen last weekend could plunge Syria into a catastrophic civil war, a civil war from which the country would never recover."
Hague echoed Ban, warning that Syria was on the edge of an "all-out civil war".
Preliminary findings by Syria showed that 600-800 armed men were responsible for the Houla massacre.
Syria representative to human rights council Faysal Khabbaz Hamoui blamed terrorist groups for the carnage.
"The main motive for those murderers was to ignite sectarian strife, in an area made up of multi-sectarian social fabric, which until now has lived in peace," he said. "It is now something familiar for the armed terrorist groups and gangs to carry out those massacres at specified times, so that the crimes take place immediately before the convening of the UN Security Council or a visit by the UN-Arab League special envoy, Kofi Annan."
The committee also concluded there were no traces of artillery shelling on the bodies of the victims.
In attempt to show a commitment to Kofi Annan's plan to end violence, the Syrian government released 500 political detainees.
"Five hundred people involved in the events taking place in Syria, without blood on their hands, have been released," a newsflash on state TV read, Reuters reports.
Meanwhile, the head of the Free Syrian Army has denied that his forces have issued a deadline to the Syrian government.
Earlier, Col Qassim Saadeddine gave Assad a 48-hour deadline to abide by Annan's plan.