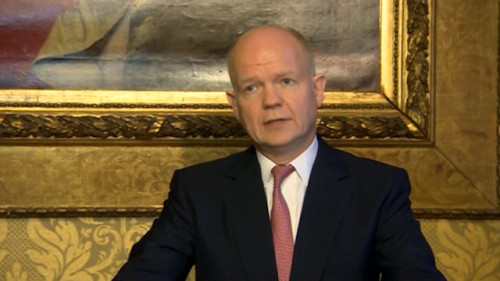 UK Foreign Secretary William Hague has said the government is "working on" a plan to allow some Syrian refugees into the UK as peace talks continue in Geneva.
He said Home Secretary Theresa May is considering how to help "particularly vulnerable" people trapped in Syria.
But, speaking on the BBC's Andrew Marr Show, he refused to confirm if by "vulnerable" he meant religious groups such as Christians.
Instead, he said: "This is still being worked on."
Hague also stressed there was a "serious danger" of radicalisation among people returning to the UK from Syria.
Labour said the government should quicken its response and agree to a UN resettlement programme.
But Hague said Britain's "main effort" in the Syrian crisis would continue to be helping people inside the country.
He said: "British aid is helping people every day, a million with drinking water, a third of a million a month with medical consultations."
On the subject of radicalised people returning to the UK from Syria, Hague stressed the issue was a "serious danger".
He said British people should not go to Syria "under any circumstances" and those who did could have their passports or permission to remain in the UK removed.
His comments come as Syrian government and opposition delegations meet for peace talks in Geneva. Delegates were expected to thrash out a possible agreement on a short ceasefire to allow humanitarian aid into armed rebel-held areas in Homs and to allow prisoner releases.
Commenting on the talks, Hague said the "real test" would be whether the regime would "engage on setting up a transitional government" - made up of both opposition and regime members - a step the opposition has accepted, to their "great credit".
But he said the "biggest sticking point" was President Bashar al-Assad's refusal to stand down, which the President has previously described as "inappropriate and unnecessary".
"Nobody really, rationally can imagine Syria ever being led again - after this terrible oppression and murder and death of so many people - by the same person."