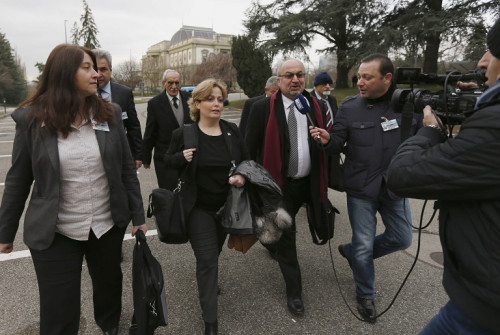 Syria's government and opposition have held their first face-to-face talks since the start of the conflict that has so far lasted three years and cost 130,000 lives.
The meeting at the United Nations headquarters in Geneva was designed to produce small concessions rather than a full peace deal.
Delegates were expected to discuss a possible agreement on a short ceasefire to allow humanitarian aid into armed rebel-held areas in Homs.
Opposition delegation spokesman Louay Safi told reporters: "We will focus over the next two days on humanitarian conditions and letting in food to the besieged areas. We will also discuss the release of the prisoners of conscience. There are huge numbers of them. We will start first with women and children."
It has been referred to as a 'political conference' based on Geneva 1 - which calls for the establishment in Syria of a transitional governing body by mutual agreement.
But President Bashar al-Assad's government delegation said while it broadly accepted the declaration it reiterated its longstanding opposition to the idea of a transitional body, saying it was inappropriate and unnecessary.
Information Minister Omran Zoabi said: "We have complete reservations," comparing the proposal to the transitional government set up in Iraq by US occupation forces after they toppled Saddam Hussein in 2003.
"Syria is a state with institutions," he added. "A transitional governing body happens where the state is in disintegration, or has no institutions."
The opposition has insisted that the government delegation accept the concept of setting up the transitional body, saying it must bring an end to Assad's rule.
But the president has argued that only Syrian voters can choose their ruler and that he may well stand again in an election to be held by June this year.
The conflict has not only claimed thousands of lives but has also driven 9.5 million people from their homes, creating a major humanitarian crisis within Syria and on both sides of its borders.