Smart home company Tado has launched the second generation of its Smart Thermostat, adding increased functionality and an emphasis on privacy.
In the relatively nascent smart thermostat space, German-based Tado is the freshest face of them all. Google-owned Nest and Hive from British Gas are already reasonably well known, but Tado's position as an independent start-up could be one of its biggest draws.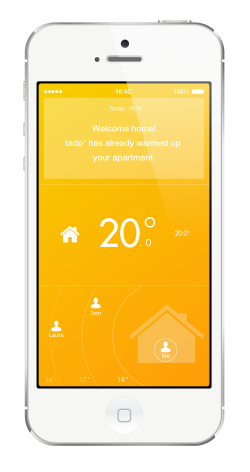 A major concern for many hesitant about embracing home automation is the question of data privacy and what large companies such as Google might be doing with all the information collected.
"Privacy is definitely a selling point," Christian Deilmann, CEO and founder of Tado, told IBTimes UK at the product's launch event on 7 October.
"We have very strict data policies and very strong security technologies. All our devices have their own IP addresses and use the same security technology to communicate with other devices as online banking."
Speaking on the data privacy issue, Maciej Zawadzinski, CEO of Piwik PRO, said: "There is no doubt that internet users are becoming more and more concerned with privacy and entrepreneurs are starting to respond to this concern. Startups offer users a more secure alternative to Google or Facebook, helping people to protect their personal data."
Other selling points of Tado's Smart Thermostat are innovative features that are yet to be included on its rivals' devices. These include weather forecast integration, hot water control, and advice in the case of your home's heating system breaking down.
The startup also hopes that the thermostat's subtle design will make it appealing to customers looking for unobtrusive technology.
"We wanted to combine efficiency and comfort," said Leopold Von Bismarck, chief marketing officer at Tado. "The philosophy of Tado is that tech should be humble, tech should be in the background."
"Therefore we don't have a retina screen on the wall, it's not trying to constantly talk to you. It's subtle."