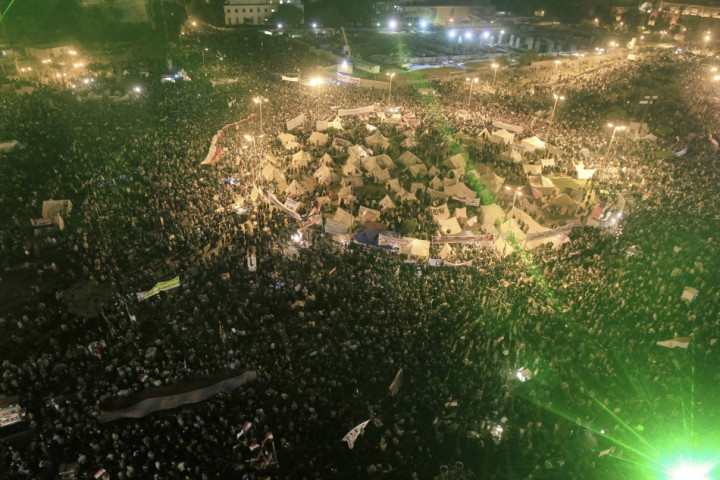 Thousands of protesters were flocking to Cairo's central Tahrir Square to demonstrate against President Mohammed Mursi's refusal to back down over sweeping powers he granted himself on Friday.
One protester choked to death on teargas in clashes with security forces, bringing the total number of fatalities to four.
Police also clashed with protesters in Bolivar Square ahead of the planned demonstration.
During a meeting with judges overnight, Mursi refused to change anything in his decree that granted him immunity from the judiciary and blocked his decisions being revoked.
Protesters waving Egypt's red, white and black flags and chanting "Leave, leave" and "Down with the regime" joined those who have been camping out at the Tahrir Square Mursi's pronouncement.
The Muslim Brotherhood played down the rally on Twitter, claiming turnout was low and indicating a "lack of support" compared to protests against late ruler Hosni Mubarak.
Low protest turnout today indicates lack of support among Egyptians

— Tom Gara (@tomgara) November 27, 2012
THOUSANDS strong in the march from Shobra to #Tahrir. — Tarek Shalaby (@tarekshalaby) November 27, 2012
We are still in Shubra st marching to Tahrir. Humongous. Definitely today is one of the biggest #tahrir days ever. — The Big Pharaoh (@TheBigPharaoh) November 27, 2012
Fighting erupted as several hundred young protesters threw stones and police responded with teargas in a street off Tahrir Square leading to the US embassy.
In addition to giving Mursi judicial immunity, his new powers have allowed him to install his ally Talaat Ibrahim as prosecutor general and allow the retrial of those loyal to former president Hosni Mubarak.
Mursi claimed the decrees were necessary to protect the revolution that brought down Mubarak. Mursi supporters cancelled a rally they had planned.