A tanker that had been used to transport crude oil from Iraqi Kurdistan appeared unladen around 30km off the Israeli coast on 19 August, according to Reuters news agency.
Citing ship tracking data, Reuters said the Kamari tanker had been spotted, with a partial load on 17 August, to the north of Egypt's Sinai, where it turned off its satellite transponder, before reappearing empty off Israel's coast two days later.
The tanker was first loaded at the Turkish Mediterranean port of Ceyhan in early August, before making a delivery to Croatia via another ship.
Hungary's MOL Group, which has assets in Iraqi Kurdistan, said it had purchased around 600,000 barrels of Kurdish crude that was unloaded at the Croatian port of Omisalj.
Vanishing tanker
A tanker first unloaded Kurdish crude at the Israeli port of Ashkelon in late June, and Israel has been a vocal supporters of Kurdistan's right to self-determination.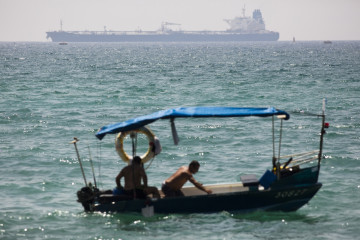 For its part, the Kurdistan Regional Government (KRG) has previously denied selling oil to Israel "directly or indirectly".
The semi-autonomous region in northern Iraq has enraged Baghdad by exporting oil independently in recent months.
Iraq's central government has said the constitution gives it the sole rights to sell oil on international markets, while Arbil, the capital of the semi-autonomous region, has said it is permitted to sell oil without Baghdad's approval.
The KRG began transporting major volumes of oil via a new pipeline to Turkey early in 2014, but the oil was only loaded on to a tanker for export in May.
Oil dispute
Baghdad and Arbil have been involved in a long-running dispute over revenues from oil sales, as well as a long-running budget dispute that has seen the northern region lose its share of the national budget.
Baghdad has launched legal challenges against sales of Kurdish oil, blocking one sale to in Morocco and another in the US, but the Kurds have persisted with efforts to sell oil as they seek to boost their state coffers at a time of heightened insecurity in the region.
Fighters from the Islamic State seized vast swathes of territory in northern Iraq in June, which they have consolidated in recent weeks. The Kurds believe the jihadist militants could use their newly seized territory to launch attacks on Kurdish controlled positions.