Taser, the US firm best known for selling "electroshock" weapons to police, is changing with the times. It has announced a new name and a headline-grabbing promise: to provide body cameras to "every sworn officer at every US law enforcement agency".
The company, now called Axon, is boasting a greater focus on software, cloud applications and artificial intelligence (AI) and claimed its pledge includes a free one-year trial of the cameras, training packages, alongside "unlimited" licences to its computer programmes.
"We are going all-in to empower police officers to more safely and effectively do their jobs and drive important social change by making body cameras available to every officer in America," said Rick Smith, founder and chief executive of Axon in a statement.
He added: "We believe these cameras are more than just tools to protect communities and the officers who serve them. They also hold the potential to change police work as we know it, by seamlessly collecting an impartial record and reducing the need for endless paperwork.
"That's why we're giving this opportunity to every single police officer in America."
Smith said that "less than one-third" of police departments in the US are currently fitted with body cameras today. Indeed, recent analysis by Pew Research indicated that both members of the public and police officers strongly favour the use of body cameras to record citizen interactions.
Calls for more body camera records mounted after a number of officers in the US have been accused of brutality. In one well-publicised case, mass protests and demonstrations kicked off in Ferguson, Missouri, after unarmed black teenager Michael Brown was shot and killed by police.
"Cameras are the first of many steps toward a future where officers feel more confident and are freed from mundane report writing to focus more time on community policing," said Smith.
"In time, cameras combined with artificial intelligence will make that very manual process automatic and effortless by creating video records to replace manual forms.
"The faster we can get this technology to officers who need it, the faster we can begin that process and free up officers' time to get back into the community, building better relationships with the people they serve."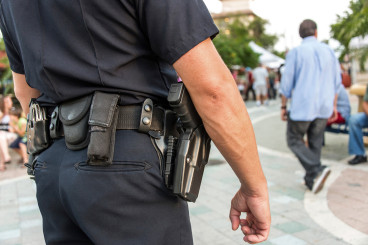 Look behind the headline-grabbing promotional offer, however, and it's easy to see the apparent motive of the proposal: using the data provided by the police departments to bolster its AI technology and cloud services, including Evidence.com.
According to technology website Cnet, if poice officers opt-in to the data collection capabilities, the firm will use the information to help bulk out its AI programme. These will eventually be used to turn the recognition of "faces, weapons and voices" into an automated system.
The greater the number of users, the more functional its programme becomes. Cnet reported it would take up to 12 months for Axon to send out roughly half a million of the camera systems, but the company itself maintained it has been preparing for the offer for months.
"Times are changing and so are we," Smith said a statement.
"We are changing our name from Taser to Axon to reflect the evolution of our company from a less-lethal weapons manufacturing company to a full solutions provider of cloud and mobile software, connected devices, wearable cameras, and now artificial intelligence.
"Taser will remain one of our flagship products, but now as a single focused product brand for our suite of smart-weapons. Axon is the company we have become."