Drivers of Ford and Lincoln cars from as far back as 2010 will be able to give them a 'smart' upgrade later in 2017. Ford has created a plug-in module giving the older cars a 4G Wi-Fi hotspot, remote control of the engine and locks via a smartphone app, and other features found on modern cars.
Connecting to the vehicle's OBDII port, usually found below the steering wheel, the pocket sized device is called SmartLink and gives 'dumb' cars a new lease of life.
Through Ford's smartphone app, owners of the SmartLink can locate their car on a map, remotely start the engine, check how much fuel is in the tank and what range that equates to, and remotely lock or unlock the doors.
Connecting to Ford's web portal also means drivers are told about any maintenance issues the car is, and alerted to scheduled services. From there the driver can book a service with their local Ford dealer via the smartphone app.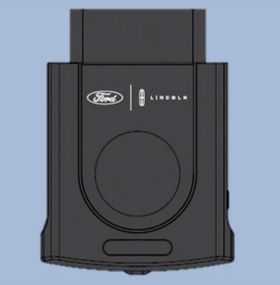 The feature will also let car owners monitor the speed and location of the car remotely, for example when it is being driven by their children. Speed limits and location boundaries can also be set up to prevent children driving too quickly or too far away from home. If the child breaks these rules a text message will be sent to their parents.
By detecting vibrations while parked, the smartphone app can alert car owners to a potential collision, break-in or vehicle theft.
Upgrade modules connecting to the OBDII port, which is normally used for diagnostic testing, have been sold by third parties for several years, but this is the first time a manufacturer has made one specifically for its own vehicles.
SmartLink will be on sale this summer, Ford says, but pricing has yet to be announced. The module will connect to Ford and Lincoln vehicles made in 2010 or later, and the product will be exclusive to US drivers initially.
Stephen Odell, executive vice president of global marketing, sales and service at Ford, said SmartLink "will surprise and delight owners of recent model-year vehicles by adding some of today's popular connectivity features."