Paris has become the latest city to embrace autonomous vehicles after rolling out a driverless bus service. City officials have begun experiments with new urban mobility solutions as a means of tackling pollution and congestion in the French capital.
A three-month trial is to see two electric shuttle buses transport passengers between Lyon and d'Austerlitz railway stations, in the east of the city. The cube-shaped EZ10 vehicles, designed by French firm Easymile, are capable of carrying up to 12 passengers and can be guided along pre-programmed routes using an array of cameras, GPS, lasers and LIDAR (Light Detection and Ranging) technology.
The buses will travel the 130-metre test route connecting the stations, which are two of Paris's busiest, within safety lanes designated specifically for the trial.
More routes will be introduced later in the year if the trial is deemed a success, with city officials aiming to eventually have autonomous shuttle vehicles connecting homes to suburban railway stations.
Much as in other major cities, transport authorities in Paris are increasingly looking toward autonomous electric vehicles as a means of curbing road-clogging traffic and reducing smog.
Air pollution in the French capital hit a 10-year high in December 2016, and authorities have now made public transport free on days when smog is particularly high to encourage people to leave their cars at home.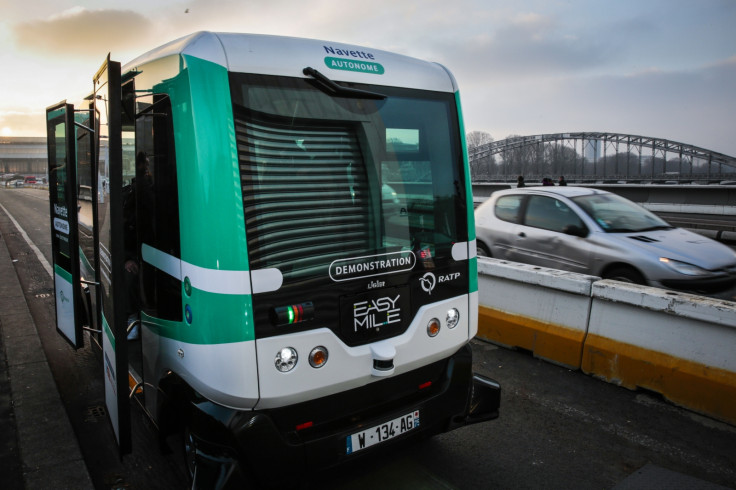 Jean-Louis Missika, the city's deputy mayor, told AFP: "Autonomous vehicles represent a revolution for every city on the planet [that] will change our urban environment and public space in a spectacular fashion over the next 20 years."
Autonomous buses began trials in the French city of Lyon in September last year, with other worldwide cities including Las Vegas, Perth and Amsterdam also experimenting with the technology.
While these have all focused on four-wheeled solutions, other companies aim to take autonomous urban mobility to the skies. Cab-hailing firm Uber is currently looking into vertical take-off and landing (VTOL) craft as a means of getting passengers quickly across cities, and Airbus intends to launch an autonomous flying taxi service within the next decade.