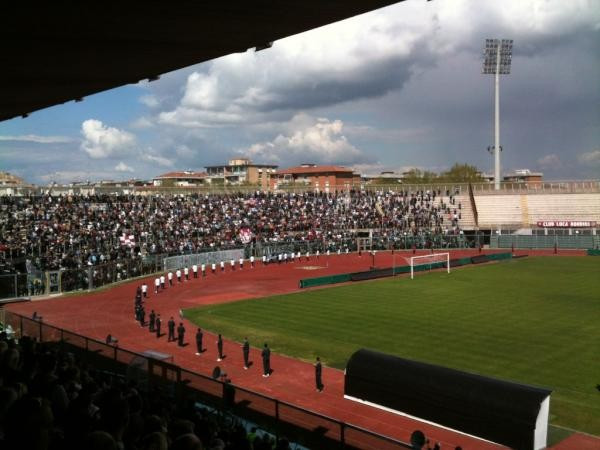 The coffin of Livorno midfielder Piermario Morosini, who collapsed and died during a match, circled Armando Picchi Stadium as teammates and fans paid their last respects.
Livorno's bishop blessed the coffin after it was taken from the hearse. Candles, cards, flowers and flags were laid by mourners at the stadium's gates. The funeral will be held in Bergamo, Morosini's hometown in northern Italy.
The player, who was only 25 years old, collapsed and died after suffering a heart attack during a match at Pescara on Saturday.
The autopsy into his death was inconclusive results as no obvious cause of death was found.
"There are no macroscopic signs which allows us to determine the boy's cause of death," said coroner Cristian D'Ovidio. "More in-depth examinations are needed, even of a toxicological nature."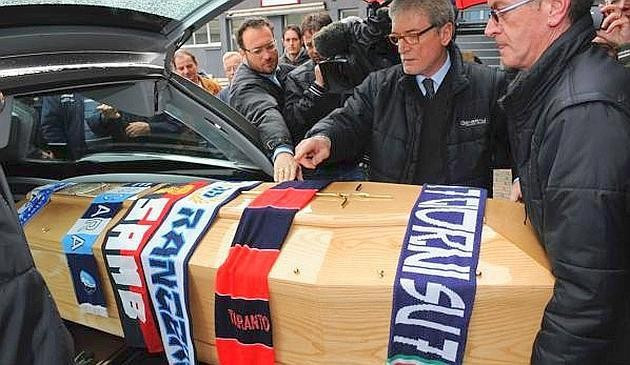 Growing speculation in the Italian media said that medical attention was focused on the assessment of genetic cardiac defects.
Piermario Morosini: Italian Footballer's Autopsy Report Inconclusive, Funeral on Thursday
Livorno club has confirmed that it will retire the number 25 jersey - Morosini's number.
Former Livorno club legend Igor Protti said he asked the mayor to dedicate a section of the stadium to Morosini's memory.
"It was a very moving occasion and very hard to swallow for everyone, especially for the family," he told Sky Sport 24. "Football in these past days has demonstrated a unity which in recent times there has never been."
Protti claimed he was touched to see the fans of strong rivals, such as Pisa, pay tribute.
Livorno president Aldo Spinelli tried to boost morale in the aftermath and reminded players that he "was a fighter".
Italy's football federation said a minute's silence would be held at all matches until Sunday. The mark of respect has also been observed at matches in Spain and England.
"I was shocked and left without words when I heard about Morosini's death," Manchester City and Italy striker Mario Balotelli told ANSA. "I didn't believe it. I thought it was a cruel joke.