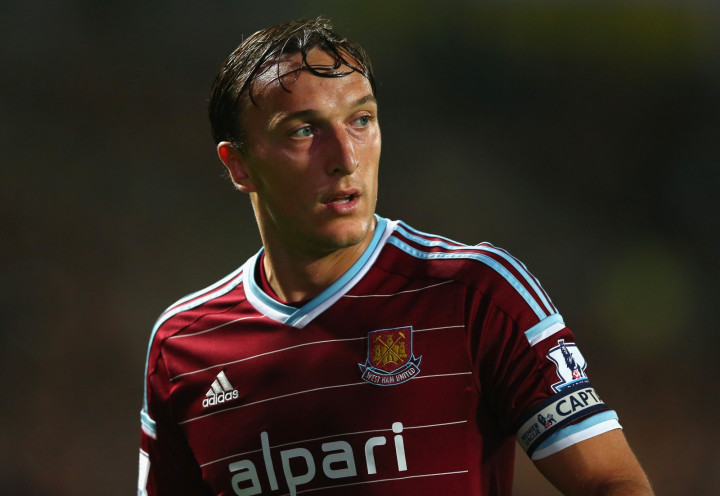 West Ham United midfielder Mark Noble has taunted Manchester United ahead of their weekend clash, claiming teams now longer have to come to Old Trafford and 'park the bus.'
United are still dusting themselves off after suffering a humiliating 5-3 defeat to Leicester City last Sunday, a game where they conceded four goals in the final half an hour as they surrendered a 3-1 lead.
Louis van Gaal's already meagre options in defence have been further depleted in recent days through injury, with Phil Jones, Jonny Evans and Chris Smalling all unavailable for the visit of Sam Allardyce's side, leaving the manager with little choice but to call upon untested youngsters.
Off the back of a hugely impressive 3-1 victory over Liverpool in their last game, Noble feels West Ham are perfectly poised to inflict more misery on United, and hopes his side can capitalise on the 'chinks in the armour' of van Gaal's unconvincing stars.
"Whereas as in previous years we have had to 'park the bus' due to their quality, we are going up there now with a good chance of getting something out of the game," Noble wrote in West Ham's official blog Chadwell Chatter.
"The club, the staff and certainly the players are looking forward to it.
"Don't get me wrong, they are still a fantastic team with world class players and we are certainly not going to underestimate them. Coming back from that incredible 5-3 game with Leicester they will be hurting and looking to bounce back.
"Having said that we know they've got some chinks in their armour and we'll be looking to exploit them come Saturday. We are in good form, we've got good players and we're feeling confident.
"We'll take that onto the pitch at Old Trafford and hopefully come away with a positive result."
Manager Sam Allardyce, however, is approaching the game with trepidation. While aware of United's shortcomings at the back, the Hammers boss is fearful of a backlash at Old Trafford on Saturday and would take a point from the game if offered it before the game.
He told a press conference on Thursday: "I know there's quite a lot of new players playing there but certainly the demand of Manchester United is huge and they'll be really fired up to make sure they try and perform like they did against QPR and beat us.
"A draw would be great for me, anything more than a draw would be outstanding as far as I am concerned."