A pop-up tech café in London's Tech City is giving customers the chance to interact with some of the great and the good of the technology industry.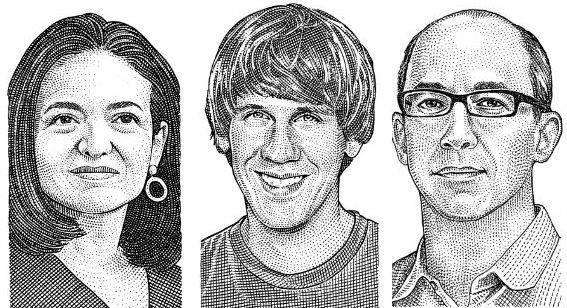 Getting to speak face-to-face to the likes of Facebook COO Sheryl Sandberg or Twitter CEO Jack Costolo about their thoughts and insights into the latest technology trends is normally reserved for a select few journalist or analysts.
However, at a pop-up café in east London this week, anyone with a smartphone can now see these titans of the technology industry speaking directly to them.
The Wall Street Journal-sponsored Tech Café will run from 12 to 14 September and will feature a series of event sessions with the likes of Facebook, Google, Telefonica and the UK Government, as well as hosting the interactive tech-art exhibition.
Part of this tech-art exhibition will be a range of iconic 'hedcuts' which will be displayed throughout the week.
Using the free augmented reality app Aurasma, cafe visitors can point their smartphones at the tech influencers to see them "burst to life, providing insight on how to spark creativity, utilise mobile and nurture talent to the local community's entrepreneurs, developers and venture capitalists."
Along with Sandberg and Costolo, other iconic 'hedcuts' will include eBay CEO John Donahue and the recently-appointed Yahoo CEO, Marissa Mayer. One of the more interesting hedcuts to be displayed will be Stephen Elop, under-fire CEO of Nokia, who last week launched the company's first Windows Phone 8 smartphones.
Aurasma's Head of Innovation Matt Mills said: "We are excited to be bringing The Wall Street Journal Tech Cafe to augmented life and demonstrating some of the cool technology coming out of the UK. The Cafe is testament to the great strides the UK tech community is making, something we're proud to be a part of at Aurasma."
The Wall Street Journal Tech Café will be held at The Book Club, 100-106 Leonard Street, London, EC2A 4RH from 8am on Wednesday, 12 September until 5pm on Friday, 14 September.