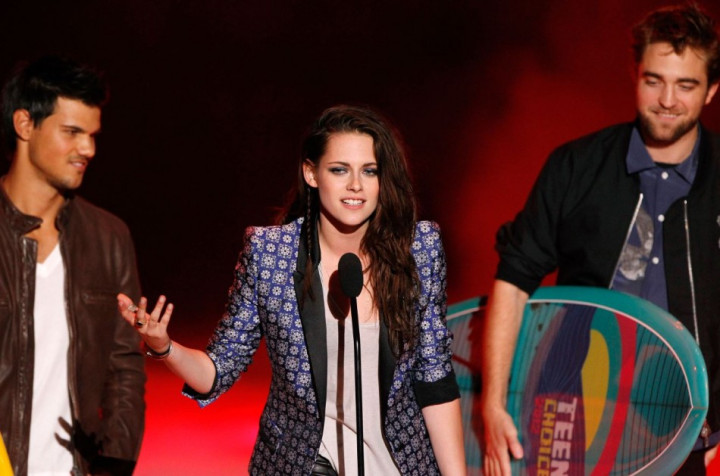 Twilight fans are waiting to see if heartthrob couple Robert Pattinson and Kristen Stewart reunite at the 14th annual Teen Choice Awards, which will take place at the Gibson Amphitheatre in California.
Stewart and Pattinson played lead characters Edward Cullen and Bella Swan in the hugely successful Twilight series, based on novels of the same name by Stephenie Meyer. The two split last year after it was confirmed Stewart cheated on the Remember Me actor with Snow White and the Huntsman director Rupert Sanders.
The 23-year-old actress and Pattinson initially reconciled and were spotted holding hands at the Coachella Music Festival in April and later in New York after the Met Gala in early May. They again split in May, after the British actor pulled out of 27th birthday celebrations planned by Stewart.
However, reports on the status of their relationship started buzzing again after Pattinson was recently spotted leaving Stewart's home in Los Angeles.
The two may have an awkward public reunion at the Teen Choice Awards, as they have once again been nominated for the Liplock award for their steamy kiss in The Twilight Saga: Breaking Dawn - Part 2.
Other nods for the couple include Best Actor, Best Actress, Choice Romantic Actor and Choice Romantic Actress.
The film has been nominated in the Sci-Fi / Fantasy category as well.
According to Hollywood Life, the two may also have to confront each other at a Twilight cast reunion.
"There is a Twilight barbecue and get-together a few of the cast members are trying to plan on a weekend near Thanksgiving - when things aren't too crazy on everyone's schedule," a source said, "But everyone feels awkward, because they of course want to invite Rob and Kristen, but no one knows if they will be okay to go to the same function together. It's really awkward."