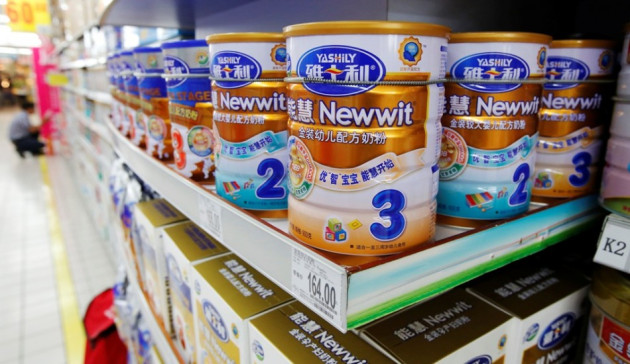 A clutch of five investors, including Singapore's Temasek and Chinese private equity firm Hopu, have agreed to acquire a minority stake in Chinese infant formula maker Yashili International from China Mengniu Dairy for HK$1.6bn ($213m, £133m, €159m).
Yashili's shares finished 17.40% higher at HK$4.25 in Hong Kong following the announcement of the deal. The stock has gained some 108% so far this year.
Temasek-owned Dunearn Investments will invest HK$770.8m for a 6.19% stake in Yashili while Hopu-controlled VITEL Group will acquire a 4.98% interest for HK$620.9m.
The three other investors - Diverse Profits, Lead Rich International and Wincon Capital Investment - will together hold a 2.07% stake in the Chinese firm.
Hong Kong-listed Mengniu Dairy's holding in Yashili will drop to 76.58%, from 89.82%, when the transaction is completed.
Mengniu, China's largest dairy producer, was forced to sell down its stake in order to meet the Hong Kong bourse's listing requirements. The sale will also help the firm repay debt borrowed to fund the Yashili acquisition earlier in the year.
The purchase will give Yashili's new investors an opportunity to profit from the rising demand for infant formula in the world's most populous country.
Competitive Market
In October, Japanese dairy products maker Meiji said it will stop selling its infant formula in China, after stiff competition and rising raw material costs hurt sales.
Earlier, Fonterra, the world's largest exporter of dairy products, said it would press ahead with plans to roll out its own branded milk formula in China despite the recent price-fixing scandal and the contaminated milk scare that rocked the firm.
China's infant formula market, worth $12.4bn (£7.6bn, €9bn), is expected to double by 2017.
Foreign firms control about 40% of the highly-competitive Chinese infant formula market. That figure surges to 80% in tier one cities such as Beijing and Shanghai.
However, a government-led crackdown on pricing and Beijing's attempts to support local industry and consolidate the fragmented dairy sector threatens to hurt foreign players.
Chinese media reports claim the government will dole out 30bn yuan ($4.93bn) to Chinese milk powder makers to help them compete with their foreign rivals.
Mengniu bought a 24% stake in Yashili from the Carlyle Group for about HK$3bn ($387m). The deal saw Carlyle exit its near four-year investment in Yashili.