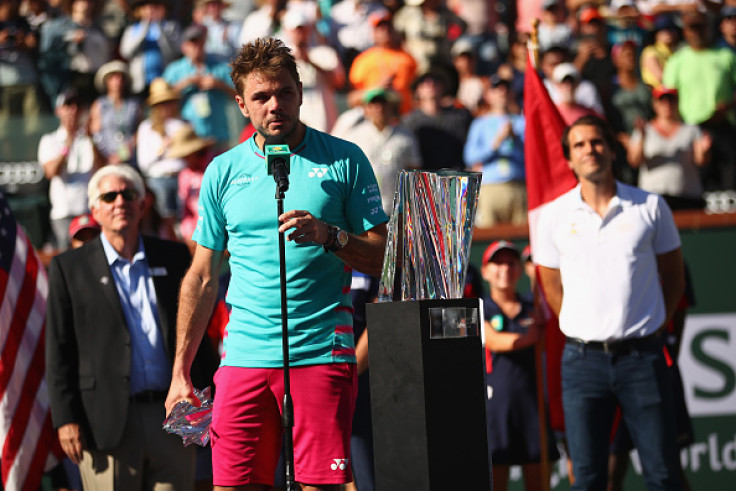 Stan Wawrinka jokingly called Roger Federer an "a*****e" in his speech following his loss in the finals of the BNP Paribas Masters to his compatriot.
The 18-time Grand Slam winner was courtside laughing while Wawrinka cut an emotional figure after his second loss to Federer this season. Soon after the jibe, the Swiss world number three went on to congratulate his Davis Cup teammate about his tremendous comeback from injury.
The 35-year-old missed six months of the 2016 campaign with a knee injury, and questions were raised about his ability to play at his best level. However, Federer surprised everyone including himself with his comeback that has seen him win two of his first three tournaments including the Australian Open.
"I would like to congratulate Roger," an emotional Wawrinka said, as he glanced over at Federer, as quoted by givemesport.com. "He's laughing. He's an a*****e, but it's OK."
"I lost some tough ones against you, but when you played the final in Australia I was still your biggest fan so congratulations for your comeback and congratulations for today. Anybody who loves to watch tennis loves to watch you so it's always good to see you back at that level, hopefully for many years," the world number three added.
Federer admitted later that he has been called an "a*****e" a number of times before, but it was the first time in the presence of a camera. The former world number one revealed that he was laughing only to make his compatriot feel better and take his mind off the loss.
"I was trying, when he looked at me, not to give him the sad face. I was looking at him going, 'You'll be fine,' and gave him a laugh, say, maybe gets his mind off it. I guess I achieved that," the 18-time Grand Slam champion explained his reasons, as quoted by CBS Sports.
"That's why I take it as a compliment," the Swiss ace said. "There's not always cameras around, so I get called that sometimes. Quite often, actually. On the court is the first time, but it felt good."