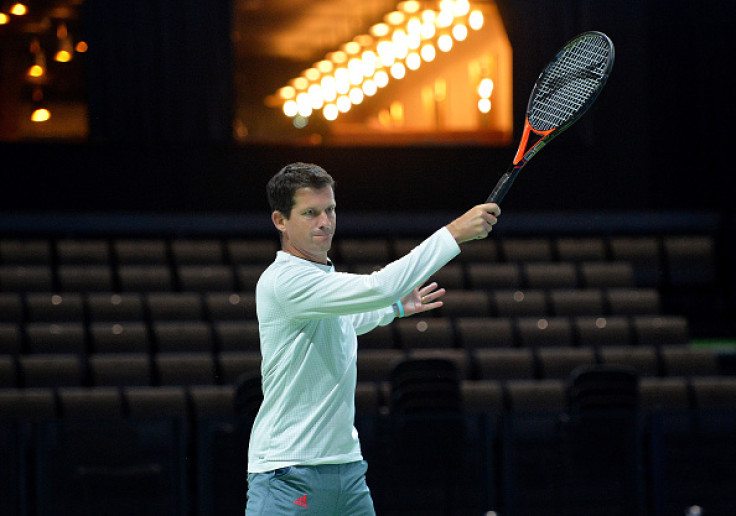 Former British number one Tim Henman has confirmed that he is ready to try and improve the level of tennis in the United Kingdom and wants to help mentor youngsters in the sport.
Henman, who is a former Wimbledon semi-finalist, was among those who played a role in the appointment of Lawn Tennis Association's (LTA) new performance director Simon Timson, a non-tennis specialist who has been brought in to improve upon the current structure in English tennis.
The 42-year-old had expressed reluctance to take up coaching roles in the past but revealed that he is open to finding a successor to Andy Murray.
"I'm definitely not looking for a full-time role but I would like to, moving forward, try to help with a group of 14-18 year old's or those 16-21. I have spoken to Simon and am beginning to understand his vision and I like what I hear. So that makes me much more inclined to have a small part to play to help that group because he has some good, simple ideas about performance, so if there's an opportunity to do more in that area I'd do that", Henman said as quoted by Daily Mail.
Since his retirement in 2007, Henman has not played a very active role in the sport though he occupied a seat on the All England Club's management committee. Now, he wants to see the different factions in England tennis work together towards one goal.
"What I'd like to see happen is people working together. There have always been different factions and the leadership from the LTA has been poor, so there's never been the united performance front. There hasn't been an inclination on my part before, but having been part of the process to put Simon in that position I want it to work, perhaps now I feel more of a responsibility. I'm a bit more motivated to play my part. We haven't had great junior results recently. But tennis isn't complicated, if you can hit the ball hard, don't miss much and can run fast you will be really good", the tennis legend added.