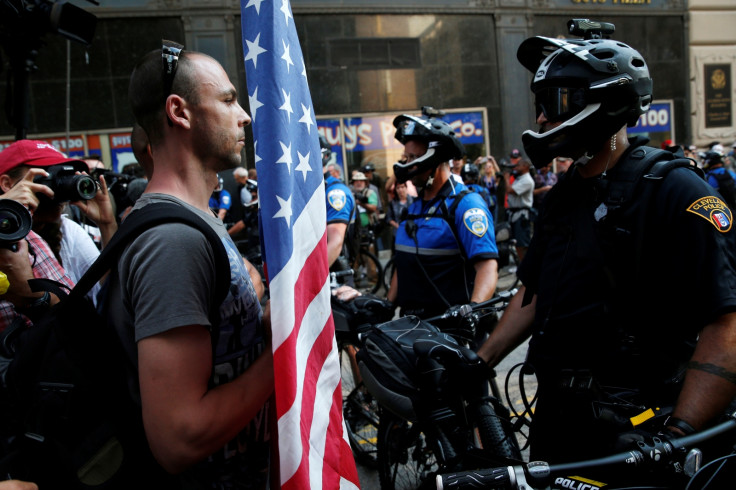 As the number of protesters and tension increased outside the Republican National Convention, Cleveland police were beginning to issue orders to clashing demonstrators to disperse, according to reports on Tuesday 19 July.
Pockets of chaos and confrontations with rival protesters and police were beginning to emerge among multiple protests snaking through the city. Several loud protests forced police to temporarily block off roads close to convention complex, in the biggest show of force to date at the 2016 convention.
The most intense scene erupted at a nearby public square and free-speech zone, during a shouting match between supporters of conspiracy theorist and radio host Alex Jones and protesters opposed to Donald Trump.
Cleveland Police Chief Calvin Williams - along with other officers - broke apart the groups, and then hundreds of police reinforcements, many armed with tear gas, swarmed the square.
"Chief Williams is very hands on," police spokeswoman Sergeant Jennifer Ciaccia told NBC News.
Several scuffles took place several blocks from the convention, but by Tuesday evening (19 July) only five protest-related arrests had been made throughout the proceedings, the Hill reported.
Activists from the anti-war organisation Code Pink confronted tough anti-immigrant Arizona Sheriff Joe Arpaio as he walked to the convention arena.
"Shame on Sheriff Arpaio," a group of about a dozen women — all wearing bright pink — shouted as the nation's most infamous sheriff made his way through the crowd, flanked by Indiana State Police troopers.
Williams said his officers have been responding to reports of small groups dressed in black, wearing masks. Police have stopped some fitting the description and confiscated gas masks and slingshots, which are prohibited around the convention.
"If those folks want to have their little march, we'll help you do that," Williams said a press conference. "If you want to cover your face during that march, maybe you need to find something else to do."
Three people were arrested on Tuesday (19 July) for climbing flag poles at the Rock and Roll Hall of Fame and hanging a banner. So far, there has been no need for the 1,000 spots cleared out in local jails and elsewhere for mass arrests.