As more details emerge of the victims from the atrocious attacks in Paris, courageous stories of those who prevented a further loss of life have begun to surface. There are likely to be many, some of which we may never get to hear about.
Over the past few days, citizens of Baghdad, Beirut and Paris, and also those other victims of Islamic State (Isis) or al-Qaeda terrorism, were bound together in the worst possible way. In the past few days, and throughout 2015, there will have been many individuals who we should be celebrating for heroic acts. Some we will hear about, some not, and there will also be those, particularly in the midst of conflict, whose stories may never be told. These names unite us in humanity, not the murderers who destroy us, and who are succeeding in doing so following the attacks.
Ludovic Boumbas, threw himself onto a woman at La Belle Equipe bar, taking the bullet instead of her. Safer, who was working behind the counter at the Casa Nostra restaurant, picked up two women who were heavily bleeding, and hid them in the basement. The Security team at the Stade de France blocked a man wearing a vest full of explosives at the entrance of the stadium where 80,000 people were watching France versus Germany
But they are not just in Paris. The day before in Burj El Barajneh, Beirut, Adel Termos threw himself on a suicide bomber about to enter a mosque, in what was Lebanon's worst attack since the end of the civil war. Adel's sacrifice would have prevented hundreds of more deaths.
Beirut and Paris are not just united in grief today, they were too in January 2015. There were also those stories of courage then. In the Jabal Mohsen neighbourhood of Tripoli, Abou Ali Issa tackled a suicide bomber before he could reach a cafe. In Paris, shop assistant Lassana Bathily shielded customers in a kosher supermarket from a gunman, by hiding them in a refrigerated room.
In August 2015, three Americans overpowered a heavily armed gunman on a train from Amsterdam to Paris. In May 2015, two cousins were killed when they stopped a suicide bomber from entering a Shia mosque in Kuwait. In February 2015, another Lebanese man, Qasim Hatoum, threw his three-year-old daughter to safety to his wife, and jumped on a suicide bomber at the front of a bus full of Lebanese Shia pilgrims in Damascus. Of course, one of the most powerful images is that of Tunisians in Sousse, forming a shield on the beach behind gunman Seifeddine Rezgui, to protect tourists in June 2015.
Despite the heroes, and the overwhelming and incredible acts of solidarity from Parisians, to donate blood for example, the Paris attacks are another reminder that even in death, there are divisions. Sadly, the hours and days after any major terrorist attack seem to give birth to a furious and offensive discussion.
There is an ever-increasing feeling that somehow our sympathy is stronger with those cities that are closer to home, and that it does not extend to the places we perceive to be violent, or are currently enduring devastation. Unfortunately, the notion that they will 'just have to deal with it' exists, as this it 'their normality'. Until it hits closer to home, it isn't 'our normality'.
Terrorism does not differentiate between the concert-goers killed on Friday night in Paris, those killed in a busy shopping street of Beirut, or at a market in Baghdad. If we are to truly mean that we stand in solidarity with Paris, we must also stand with Baghdad, Beirut, and with those in Syria and elsewhere – of course the list is too long to mention every single place.
Racism and hatred of Muslims seems to be spouted as casually as the condemnation, often in the same breath. I often wonder how the dead, whether they are in Paris, Beirut or Baghdad, would feel about the collective outpouring of grief, but I think more about how they would feel about the collective punishment and guilt by association, that consumes and harasses how certain people memorialise them.
We will never know. When we learn more about them, how and why they laughed, who and what they loved, perhaps we will gain a small insight into how they would feel about revenge attacks on mosques or Muslims, Syrian refugees being blamed for their deaths, and societies tensing up and hardening, becoming even more mistrusting and divided.
So many Syrian, Iraqi, and Afghan refugees (and of course others), will be able to relate to the families and friends of those who were killed in Paris. In a touching tribute, people in Douma (a suburb of Damascus, Syria) showed their solidarity with Paris, people who know all too well what a bombardment of barrel bombs feels like, and the feeling of having to pick up their dead after an air strike on a market.
Those often fleeing from the same individuals that wreaked havoc on Paris, are easily scapegoated. Yet another piece of sympathy for their plight dies, and if sympathy was not there in the first place, it morphs into open hostility. For some countries such as Poland, the attacks in Paris present the perfect excuse to refuse to take in Syrian refugees.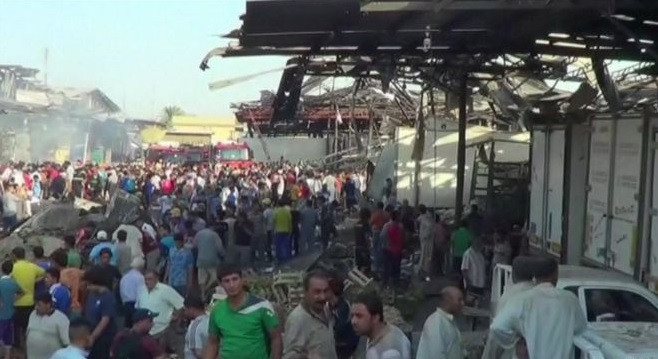 In France, the Front National's leader Marine Le Pen has also called for an "immediate halt" to taking refugees, saying it would be "irresponsible" after the attacks -- her views will garner plenty of public support. Even in the UK, refugees have been held responsible, which jars quite significantly with the outpouring of support in the country to make refugees welcome, including by offering to house refugees.
Across Europe, terrorism will have handed public sentiment to the far right. In many respects, Paris was the callous publicity boost that they needed. It is of course very important that Angela Merkel has issued a warning not to blame refugees for these attacks, despite the criticism she is facing in Germany, not least from members of the Bavarian State Government that have said the attacks in Paris have "changed everything".
Then there is the battle for outrage and grief. We may possibly be fooled into thinking that the shock and outrage about death by terrorism is only reserved for Parisians enjoying themselves on a Friday night out, or British tourists murdered on a beach in Tunisia. It isn't, nor should it be.
Beirut and Baghdad were also grieving from bomb attacks the day before and the same day. Open frustration and anger exists about certain lives seeming to matter more than others. Whilst there should never be a competition for how we commemorate the victims or choose to honour them, people in Lebanon and Iraq, Syria and Yemen, all across the Arab world, were reeling.
The feeling that an Arab or Muslim life matters less is growing, and such a trend provides a bleak picture for the future. Media outlets were widely condemned for their use of 'Hezbollah stronghold' when talking about the suicide bombings in Burj El Barajneh, Beirut. To many, this felt like some sort of justification for the attacks, and that innocent civilians had been taken out of the reporting of twin IS suicide bombs. Let us not forget that IS is still claiming responsibility for the downing of a Russian passenger jet in the Sinai which left 224 people dead.
We must not differentiate between the victims of terrorism, that somehow there is a grading for a victim of terrorism in Syria, Iraq and Lebanon that is different to a victim who is American, British or French. If we fail to understand that in Lebanon, Syria and Iraq, people are being killed by suicide bombs and regime barrel bombs, that they too are the victims of Isis, al-Qaeda and Assad atrocities, then we collectively fail.
Syrians, for example, continue to feel and are becoming increasingly aware that they are no longer part of their own fate, and that Syrian lives are among the most disposable and worthless. If one of the reactions to the attacks in Paris is to entrench this view even further, our failures will be even more rank than ever before.