Eurosceptic firebrand and Ukip leader Nigel Farage is set to make a major speech on the terrorist attacks on Paris at a meeting on the night of 16 November.
The event, part of Farage's "Say No to the EU Tour" ahead of the EU referendum, will come after the Islamic State (Isis) linked gun and bomb assaults that saw at least 129 people killed.
The Ukip leader, whose party almost secured 3.9 million votes at the general election, is expected to address the ongoing refugee crisis on threat of jihadist terrorism to Europe after campaigning on an anti-mass immigration ticket in the run up to May's vote.
Farage warned the European Parliament in April that members of Isis would pose as Syrian refugees in a bid to infiltrate the continent.
"When Isis say they want to flood our continent with half a million Islamic extremists, they mean it," the MEP declared. "I fear we face a direct threat to our civilisation if we allow large numbers of people from that war-torn region into Europe."
There have been reports that a Syrian passport was found near to the body of one of the Paris terrorists. However, it is not clear if the passport was a fake and the exact origins of the document have not been revealed.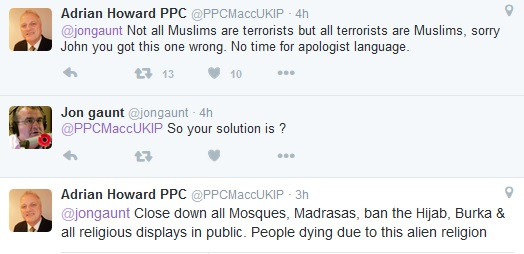 Meanwhile, Ukip launched an investigation after IBTimes UK discovered one of its former would-be MPs called for "all Mosques" to be closed in the wake of the Paris attacks.
Adrian Howard, who stood for the party in Macclesfield in May, has since deleted his Twitter account where the message was posted. A Ukip spokesperson told IBTimes UK: "We are not commenting about this at this time but will investigate."
Farage is expected to speak about the Paris attacks from 7.40pm GMT at the event in Basingstoke.